Hawkeye Fan Shop — A Black & Gold Store | Hawk Talk Monthly — January 2018 | 24 Hawkeyes to Watch — 2017-18 Season | Final Results (PDF)
BY: MADISON PETERSEN
hawkeyesports.com
IOWA CITY, Iowa — The University of Iowa women's gymnastics team recorded its second consecutive conference win with a 195.725-195.300 victory over Ohio State on Friday evening at Carver-Hawkeye Arena.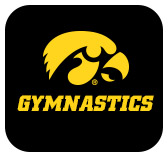 MEET HIGHLIGHTS
After tying in the first rotation, Iowa took the lead and never looked back, continuing to lead throughout bars, beam, and floor for the victory. Six GymHawks took home event titles and the team registered nine top-three finishes.
In addition, ten GymHawks earned 19 season bests, while the team registered season highs in every event.
HEAR FROM COACH LIBBY
"Having two Big Ten wins under our belt at this point means everything. We preach that until you are respected in the Big Ten, you can't be respected on the national stage. It's so important to get those little wins along the way. This was a very close competition. It was a lot of work for that 195.725. We worked hard, and there was pressure on us the entire time. I feel like getting this win will be huge for the team's confidence level and what they believe they can accomplish by the end of the season."
ALL-AROUND
Sophomore Charlotte Sullivan won the all-around with a season-high 39.100. This is her third top-three all-around finish this season.
VAULT
Iowa began the meet with a season-high 48.825 on vault, tying Ohio State's 48.825 on bars. Senior Nikki Youd took home the event title with a season-high 9.850, while senior Melissa Zurawski followed in second with a season-high 9.800.
BARS
The Hawkeyes recorded a season-best 48.975 on bars to take the lead over Ohio State (97.800-97.700)   Zurawski won the event with a season-high 9.875. Sophomore Clair Kaji followed in second with a season-high 9.850.
BEAM
The GymHawks extended their lead to 146.575-146.375 with a season-high 48.775 on beam. Youd and Kaji tied for the title, each posting a 9.850. This marks a season-high for the both gymnasts. In all, four gymnasts — Youd, Kaji, and two Buckeyes — tied for the win. Sullivan followed in fifth with a season-high 9.825.
FLOOR
Iowa finished the night on floor with a season-high 49.150. Senior Lanie Snyder and Sullivan tied for the win with scores of 9.875. This marks a season-high for Snyder and a career-high for Sullivan. Junior Nicole Chow followed in third with a career-high 9.850.
UP NEXT
The Hawkeyes travel to College Park, Maryland, on Thursday to take on the Terrapins. The meet is slated for 5 p.m. (CT) at the XFINITY Center.