IOWA CITY, Iowa – – Derrick Foster has been added to the University of Iowa football staff as its 10th assistant coach, head coach Kirk Ferentz announced Tuesday.   
Foster joins the Iowa staff after serving the last two seasons as running backs coach and running game coordinator at Samford University in Birmingham, Alabama. He has coached wide receivers and running backs at Tennessee, Northwestern State University, and Valdosta State University.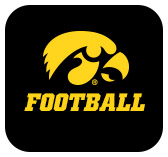 "Derrick is an outstanding person and has built an impressive resume with experience at multiple levels of college football," said Ferentz. "He has an impressive record of success on the recruiting trail that will strengthen and expand our existing efforts."
"My wife, Bianca, and I are excited to be afforded this wonderful opportunity to become a part of the Iowa family as well as the Iowa City community," said Foster. "Our journey is continuing, as this provides us with the opportunity to be part of a great staff and a University that is committed to excellence.  I have a lot of respect for the stability and commitment of coach Ferentz and his longevity with the program.  I feel fortunate and look forward to working with coach Ferentz and his dedicated staff."
"Our goal was to use this additional coaching position to help us in multiple areas, and we did that," said Ferentz. "We gained Derrick as a coach, we bolstered our recruiting capabilities, and we strengthened our commitment to special teams by allowing LeVar Woods to focus entirely on a significant phase of our game."
Foster joined the Samford staff from Northwestern State University in Louisiana, where he coached running backs in 2013 and wide receivers in 2014 and 2015. While at Northwestern State, Foster tutored some of the top receivers in program history.
Under Foster's tutelage, Ed Eagan set the school single-season receptions record with 73, including single-game marks of 13 catches and 238 receiving yards.  Foster was instrumental in helping Bryant Mitchell make his way to the Canadian Football League's Edmonton Eskimos and guided Cody Jones to a productive junior campaign in Jones' second season as a full-time wide receiver.
Foster was an assistant coach at Tennessee in 2012, assisting the offensive coordinator and assisting as running backs coach. The Volunteers finished third in the Southeastern Conference in total offense with 5,711 yards.  He held office recruiting duties for junior colleges in California, Texas, Kansas, New York, Arizona, and Illinois.
Foster's coaching career began at Valdosta State in 2011, where he assisted head coach David Dean, and offensive coordinator Robby Brown, while working with the punt and return teams.  He worked with wide receivers and helped produce an All-Gulf South Conference selection; he coached Seantavius Jones, now a receiver with the Kansas City Chiefs.
Foster was a three-year starting receiver at Southwest Baptist College in Missouri, where he produced a record-shattering 2007 campaign. He ranked sixth in the conference with 44 catches in 2007.  Foster played in 41 of 44 games and had 93 career receptions.  As a prep, he was a 1,000-yard rusher at Goshen (Alabama) High School, where he was an All-County running back.
Foster is a native of Goshen, Alabama.  He earned a bachelor's degree in sport management from Southwest Baptist in 2010 and a master's in public administration from Valdosta State University in 2013. Foster is married to the former Bianca Cooper.
Foster's hiring comes as a result of the NCAA allowing FBS programs to add a 10th fulltime assistant.  Foster will coach on the offensive side of the ball, allowing LeVar Woods to spend more attention to special teams.  Specific coaching assignments will be announced later.
Iowa football has posted back-to-back eight-win seasons and a 28-12 record over the past three campaigns.  The Hawkeyes closed the 2017 season with a 27-20 win over Boston College in the New Era Pinstripe Bowl.