Hawkeye Fan Shop — A Black & Gold Store | 24 Hawkeyes to Watch 2017-18 | Hawk Talk Monthly — January 2018 | WBB Tickets | Game Notes (PDF)
By DARREN MILLER
hawkeyesports.com
IOWA CITY, Iowa — Maybe it's coincidence, but since sophomore guard Makenzie Meyer returned to the University of Iowa lineup Jan. 21, her backcourt mate, Kathleen Doyle, has seen a spike in her shooting percentage.
 
Not to mention, the No. 25 Hawkeyes are averaging 88 points in their last two games.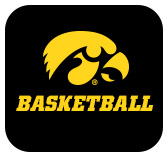 Meyer broke a bone in her left (non-shooting) hand prior to Iowa's Big Ten Conference opener at Wisconsin on Dec. 28. The Hawkeyes (16-5 overall, 4-4 Big Ten) won three of their first four games without Meyer, then hit a two-game skid with losses at home to Purdue and at Nebraska.
 
Iowa head coach Lisa Bluder began to see more leadership emerge from Doyle during a win at Illinois on Jan. 7. She played all 40 minutes, handed out 10 assists, and swiped two steals. Less than a week later against the Boilermakers, Doyle played 38 minutes with 10 assists.
 
But during a three-game stretch against Illinois, Purdue, and Nebraska, Doyle shot 8 of 36 from the field (22.2 percent) and 2 of 14 from 3-point range (14.3 percent).
 
"We needed her on the court," Bluder said Friday during a teleconference. "Her defense was good and she was leading our team in other ways besides scoring. She upped her game about four games ago. I love the progress I have seen with Kathleen."
 
Meyer returned to the lineup at Minnesota on Jan. 21. Although the final result was a third consecutive loss for the Hawkeyes, Doyle responded by scoring 21 points and shooting 7 of 14 from the field. On Thursday, during a 103-89 win over No. 12 Ohio State, Doyle scored 25 points and made 9 of 19 field goals. In two games with Meyer back in the lineup, Doyle is shooting 48.5 percent from the field, 42.9 percent from distance, and averaging 23 points per game.
 
"Certainly having Makenzie back takes a little pressure off (Kathleen), especially in the shooting area," Bluder said.
 
Meanwhile, Doyle continues to lead by sharing the ball and playing smothering defense. A great example was her performance against the Buckeyes. Doyle handed out 11 of Iowa's 26 assists, which happened to be six more assists than the entire Ohio State team. She also spent a majority of the game guarding Buckeye senior Kelsey Mitchell, who will soon become the all-time leading scorer in Big Ten history. Mitchell scored 27 points, but missed 16 of 26 from the field with five turnovers in nearly 40 minutes.
 
Now, for the second time in 12 days, Iowa turns its attention to Nebraska, one of the surprise teams in the conference. The Cornhuskers (15-6 overall, 6-2 Big Ten) defeated the Hawkeyes, 74-65, in Lincoln, Nebraska, on Jan. 16. Ironically, Iowa shot better from the field (39.1 percent to 38.1 percent) and from the line (64.7 to 48.6), and outscored Nebraska by 20 points in the paint (46 to 26).
 
Bluder credited Nebraska for being a strong defensive team and said its effectiveness after Iowa's 15 turnovers was key.
 
"We had 15 turnovers and they scored 23 points off those turnovers," Bluder said. "You might say they were untimely turnovers — live ball turnovers instead of dead ball turnovers where you can set your defense."
 
Iowa and Nebraska will tip off Sunday at 2 p.m. (CT) on Mediacom Court inside Carver-Hawkeye Arena.
 
"I do feel like we're a different team with Makenzie back in the fold," Bluder said. "Having (Nebraska) on our home court is also a good advantage."
 
Bluder said junior center Megan Gustafson has no symptoms of a concussion and was "good to go" moving forward. Gustafson collided with Ohio State's Sierra Calhoun with 2:23 left in Thursday game, but returned to the court less than a minute later.
 
Gustafson leads the Big Ten in rebounding (12.4 per game) and field goal percentage (67.0), and is second in scoring (23.9 points per game).