Hawkeye Fan Shop — A Black & Gold Store | Hawk Talk Monthly — January 2018 | Kinnick Edge | Pinstripe Bowl Coverage
Editor's Note: The following first appeared in the University of Iowa's Hawk Talk Daily, an e-newsletter that offers a daily look at the Iowa Hawkeyes, delivered free each morning to thousands of fans of the Hawkeyes worldwide. To receive daily news from the Iowa Hawkeyes, sign up HERE.
By DARREN MILLER
hawkeyesports.com
IOWA CITY, Iowa — Derrick Foster had one chance to make a good first impression and he did. 
It paid off a year later.
Foster was added to the University of Iowa football coaching staff Jan. 23 and he recognized many faces when he arrived in the Stew and LeNore Hansen Football Performance Building. Foster was introduced to Iowa's staff more than a year ago when he was a finalist for the receiver's position that was accepted by Kelton Copeland.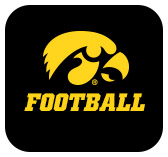 "Coach (Kirk) Ferentz called me and said I did an outstanding job, unfortunately they decided to go a different direction, which was OK," Foster said of the meeting in 2017. "He gave me my pros and cons, talked to me and told me exactly what the situation was. He told me I was out of sight, but not out of mind; we kept open communication throughout the season."
The 31-year-old Foster spent the 2017 season as running backs/run game coordinator for Samford University in Birmingham, Alabama. The Bulldogs finished 8-4 and advanced to the FCS Playoffs, where they lost to Kennesaw State, 28-17. 
Foster will remain on the offensive side of the ball with the Hawkeyes and work with second-year offensive coordinator Brian Ferentz.
"I'm an energetic, caring guy who will be committed to the program in any way I can," Foster said. "I care for my players — my players are first — and I care about this program. I want to see it succeed and I want to be able to add value to this program any way I can. 
"I coach hard, I love (my players) harder, so that is who I am personally. I'm genuine, straight-forward and that is what has gotten me here in coaching."
Foster, a native of Goshen, Alabama, was a three-year starting receiver at Southwest Baptist, a Division II program in Bolivar, Missouri. He played in 41 of 44 games and had 93 career receptions. In 2007, he ranked sixth in the conference with 44 catches.  He was a 1,000-yard rusher at Goshen High and an All-County running back.
           
Foster graduated with a bachelor's degree in sport management from Southwest Baptist in 2010 and a master's in public administration from Valdosta State University in 2013. While serving as a graduate assistant receivers coach at Valdosta in 2011, Foster was part of head coach Dave Dean's staff that included defensive coordinator Seth Wallace. Wallace is Iowa's assistant defensive coordinator and linebackers coach.
"Any time I would have free time and (Seth) was available, I would sit in his office and try to soak up as much information as I could from a defensive standpoint, to see what those guys were doing on the defensive side," Foster said. "Seth was the type of coach who would sit down with younger coaches and help out and teach things. Over a period of time our relationship grew, grew, grew and I think that has led us to this point."
Because he was coaching, Foster didn't have time to watch many of Iowa's games last fall. He did send coach Ferentz a congratulatory message after the Hawkeyes defeated Ohio State, 55-24, on Nov. 4; he also watched a portion of Iowa's 27-20 win over Boston College in the New Era Pinstripe Bowl on Dec. 27.
"I have always admired what Iowa has been able to do from afar," Foster said. "One thing that sticks out to me is the commitment, stability, and longevity that coach Ferentz and this staff has built over a period of time. It speaks volumes for a university that stands behind its head coach and believes in what he is doing. 
"Everybody has bought in and everybody is on the same page and that is something you don't see a lot of in college football. That is one of the things that attracted me to Iowa."
Another factor was Hawkeye fans.
"I heard the fan base here is phenomenal," Foster said. "I look forward to seeing the game day atmosphere that Iowa has to bring. I'm looking forward to developing relationships with people around the campus and developing relationships with players who are currently on the team."
Foster is married to the former Bianca Cooper.