Hawkeye Fan Shop — A Black & Gold Store | 24 Hawkeyes to Watch 2017-18 | Hawk Talk Monthly — January 2018
IOWA CITY, Iowa – – Former University of Iowa football players Josh Jackson and Sean Welsh will participate in the 2018 All-Star Football Challenge at AT&T Stadium in Arlington, Texas. The 20th edition of the All-Star Football Challenge will air on ESPN2 at 9 p.m. (ET), on Friday, Feb. 2.
 
For the second consecutive year, the skills competition will feature 24 of college football's brightest stars divided into six teams based on their college conference. Each team will consist of four players from the same conference that will compete for conference supremacy in a series of skills competitions. The conferences represented are the ACC, the Big Ten, the Big 12, the Pac-12, the SEC, and four of the best players outside of the Power Five that will be called the "Wild Card" team.
 
Jackson, a native of Corinth, Texas, led the nation with eight interceptions while earning unanimous consensuws All-America honors. The eight thefts tied Iowa's single-season record. He also led the nation in passes defended while being named the Big Ten's Tatum-Woodson Defensive Back of the Year.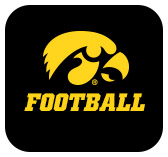 Jackson tied Iowa's school record with two interception returns for touchdowns (B.J. Lowery, 2013) at Wisconsin, covering 43 and 52 yards. The previous week, Jackson tied Iowa's school record with three interceptions in Iowa's 55-24 win over No. 3 Ohio State. Jackson also had a forced fumble at Wisconsin, and a blocked field goal in a win over North Texas. Jackson has declared for the NFL Draft.
 
Welsh, a native of Springboro, Ohio, started all 13 games for the Hawkeyes in 2017. He started the final 23 games of his career over the past two seasons and earned 48 career starts. Welsh earned first team All-Big Ten honors as a senior. He was named a permanent team captain and earned the Hayden Fry Award this past season. Welsh took part in the Senior Bowl on Jan. 27.
 
Each player will individually participate in a timed event, and then finish with a full team event. Events will all be timed and have individual winners that will compile into a cumulative score to determine the winning team. For example, the quarterbacks from each team will all compete against each other to win their competition. But ultimately, their time will be added to the times of the other competitors on their conference designated team to have a final team score.
 
Individual events in the 2018 All-Star Football Challenge include: the QB Accuracy Competition, the Hands Competition, the Lineman Strength Challenge and the Obstacle Course. To conclude the program, the players will compete as teams in the Team Competition.