Hawkeye Fan Shop — A Black & Gold Store | 24 Hawkeyes to Watch 2017-18 | Hawk Talk Monthly — January 2018
Editor's Note: The following first appeared in the University of Iowa's Hawk Talk Daily, an e-newsletter that offers a daily look at the Iowa Hawkeyes, delivered free each morning to thousands of fans of the Hawkeyes worldwide. To receive daily news from the Iowa Hawkeyes, sign up HERE.
By MADISON PETERSEN
hawkeyesports.com
IOWA CITY, Iowa — Becoming a Hawkeye is a dream for many Iowa natives. Four GymHawks — senior Jori Robertson, junior Sydney Hogan, and freshmen Erin Castle and Emma Hartzler — have made that dream a reality.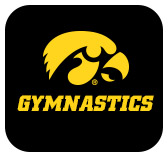 Growing up in the Hawkeye state and following the athletics programs, Robertson, Hogan, and Hartzler couldn't help but fall in love with Iowa at an early age.
 
"I always wanted to come to Iowa," said Robertson.  "Growing up, I went to the Iowa gymnastics meets and I thought it was so cool. The environment was electric. I knew that I wanted to be one of them someday. I wanted to be a GymHawk. I'm glad I was able to make that happen."
 
"I grew up watching the Hawkeyes and coming to gymnastics meets in Carver," said Hartzler. "It has been my dream to come here and be a gymnast for as long as I can remember."
 
"The closer I got to graduating high school, the more I realized how much of a Hawkeye fan I truly was and how badly I wanted to come here," said Hogan.
 
Although Castle grew up near Ames with a family of Cyclone fans, her visit to Iowa City cemented her decision to become a Hawkeye.
 
"When I visited Iowa, I realized how amazing it was and how much I wanted to be a Hawkeye," she said. "From the atmosphere to the coaches to the culture, I loved everything about Iowa and Iowa City."
 
The Hawkeyes debuted in Iowa City on Jan. 19 with a win over Ohio State, a moment that was significant for the native freshmen.
 
"Competing in Carver-Hawkeye Arena for the first time was fun," said Castle. "When your name is announced and you run out in front of all the screaming Hawkeye fans, there's nothing else like it. It has all been a great experience so far."
 
"Being surrounded by a home crowd at Carver-Hawkeye Arena was unlike anything I've experienced before," said Hartzler. "I had so much fun."
 
While these four Iowa natives dreamed of competing in Carver-Hawkeye Arena from the first time they attended a meet, they say the team, program, and opportunities the university offers are what truly made them want to represent their home state.
 
"These girls are like my family — they're my sisters," said Robertson.  "We spend a lot time together every day, and we always have fun no matter what we're doing. If something is challenging, we get through it together by motivating and helping each other. I don't know what I would do without them."
 
"I chose Iowa because of all the opportunities," said Hogan. "Coming here opened me up to so many new, different, and exciting things and people. Plus, the team and coaches are so supportive. They support you through not only gymnastics, but everything that you go through during life in college."
 
By making the decision to represent their home state, the group says they have experienced a feeling of pride in having the opportunity to wear the black and gold.
 
"It makes me excited and proud that I can represent Iowa," said Hogan. "A lot of people think that they need to get out of Iowa to do big things, but you don't need to get out of Iowa to do big things. You can make your own big things here. The University of Iowa is a perfect example of that. I'm proud that I can make a name for myself here."
 
"Being able to wear the black and gold is so cool because I'm not only representing the University of Iowa, I'm representing my home state," said Castle. "I think that's an incredible opportunity, and I'm grateful for it."
 
The GymHawks are back in action Friday, traveling to Champaign for a Big Ten Conference meet at Illinois beginning at 7 p.m. (CT).