Hawkeye Fan Shop — A Black & Gold Store | 24 Hawkeyes to Watch 2017-18 | Hawk Talk Monthly — February 2018
Editor's Note: The following first appeared in the University of Iowa's Hawk Talk Daily, an e-newsletter that offers a daily look at the Iowa Hawkeyes, delivered free each morning to thousands of fans of the Hawkeyes worldwide. To receive daily news from the Iowa Hawkeyes, sign up HERE.
By: BREANNA KELLOGG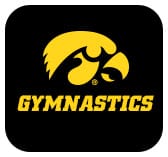 IOWA CITY, IOWA  — For the University of Iowa men's gymnastics team, being one of the best pommel horse teams in the country has always been a goal. Now, they are closer than ever to achieving just that.
As of January 29, the Hawkeyes are ranked third in the nation on pommel horse. At the same time last year, they were ranked 16th out of 20 Division I teams. UI head coach JD Reive says training hard has helped his team get off to a good start.
"We have a very diligent and methodical training regime on pommel horse," said Reive. "It takes a lot of repetitions. It is probably one of the most monotonous things to do in order to be good at it. It takes a special breed to be good on pommel horse. We managed to create a winning environment around the event and it went from being one of our weakest events to one of our strongest."
Reive has found that special breed in senior Austin Hodges and sophomore Nick Merryman. Both gymnasts have been ranked in the top-10 on the event every week this season, with Hodges currently ranked sixth and Merryman ranked eighth. Hodges broke his own school record on pommel horse at the Windy City Invitational on January 13, notching a 14.700, the fourth-highest score in the country as of January 29. Not far behind is Merryman who has the sixth-highest score in the country, a 14.200 he earned at the Windy City Invitational.
While training and working hard has paid off, adopting a new state of mind has taken this team to the next level.
"Physically they do the work and they have gotten to the point where they are training like the best teams," said Reive. "The difference is the state of mind. It is a competitive state of mind. When you go to the event and practice you have to mimic the nerves and thought process that comes along with competition. You have to believe that you are going to do a great job and you have to go out there and execute. We are starting to see that early in the season from this group. The expectation is that we are good and we are going to show it off."
This state of mind has paid off early in the 2018 season. Iowa did not have a single gymnast ranked in the top-10 all of last season. This year they have had three. At the end of the 2017 regular season they were ranked fifth on pommel horse. They haven't dipped below third in 2018. This team has already accomplished so much this season, so what's driving them to continue pushing?
The desire to be on top.
Iowa looks to continue its climb up the pommel horse rankings this weekend as they open their home slate against Big-Ten foe Illinois at Carver-Hawkeye Arena of Feb. 3. Competition is scheduled to begin at 1 p.m. (CT).