Hawkeye Fan Shop — A Black & Gold Store | Hawk Talk Monthly — February 2018 | Kinnick Edge | Football Ticket Information | Meet Derrick Foster | 2018 Recruiting Class Information (PDF) | Ferentz Transcript (PDF)
By JAMES ALLAN
hawkeyesports.com
IOWA CITY, Iowa — There has been a continual change on the college football recruiting landscape, but through the changes the University of Iowa football team's recruiting philosophy has stayed true to form under head coach Kirk Ferentz.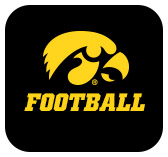 The Hawkeyes identify student-athletes with talent and with the ability to be a good football player, but as important, Iowa puts a premium on players that will be good teammates, successful students, and strong community members.
 
"It's great to have a player that is skilled, but if they don't have the character to be successful it won't mean much," Ferentz said during Wednesday's signing day news conference inside the Stew and LeNore Hansen Football Performance Center.
 
"We try to be mindful of that whenever we go out. With that said, we're pleased with the way the class came together.  Most recently with the three new signees we had today."
 
The Hawkeyes put finishing touches on their 2018 recruiting class, signing players three new players — Jayden McDonald from Georgia, Kaevon Merriweather from Michigan, and Logan Klemp from Iowa. 
 
"We have a great class of 22 signees and we're happy about that," said Ferentz. "All 22 have a clear understanding of what it takes to be a Hawkeye. Clearly that process will continue to move forward, but I think it's a great start."
 
Ferentz also was pleased with Iowa's walk-on group — 18 players in all.   Fourteen of the signees are Iowa natives, two hail from Wisconsin, and one is from Illinois and Nebraska.
 
"A number of those players and prospects turned down scholarship offers at other programs," said Ferentz. "That says a lot about their commitment to play here and their desire to play at the University of Iowa."
 
Ferentz pointed to Super Bowl LII, which included three former Hawkeyes. Two of those players — Riley McCarron and Cole Croston — were former walk-ons, while James Ferentz had one scholarship offer.
 
"To have all three of those guys on the sidelines was neat for us," said Ferentz. "We're hopeful that the careers of these guys turn out to be just as successful and see how all that goes."
 
Ferentz confirmed the departure of running back Marcel Joly, offensive lineman Lucas LeGrand, and quarterback Ryan Boyle.  Joly and Boyle will transfer to play, joining quarterback Tyler Wiegers, who transferred to Eastern Michigan following the season.  LeGrand will graduate.
 
"We had a couple of (quarterbacks) transfer the last three years that did well," said Ferentz. "I predict that same thing with Tyler, I'd be surprised if he doesn't do a great job where he goes. Same with Ryan, he's a tremendous young man and has worked hard.
 
"He's a good football player, but there's only one seat (as quarterback), one guy can drive the car. I am not saying it's impossible, but (Nate Stanley) has a good head start on everybody."
 
Ferentz also said two of the incoming "athletes" — Samson Evans and Tyrone Tracy, Jr. — may get looks at the running back position to bolster Iowa's depth.
 
"It's fair to say we'll look at some of the guys we signed at running back," said Ferentz. "Both Tracy and Evans have the ability to run the football. We'll figure that stuff out this summer.  We have some guys in the class, if we didn't feel that way, we probably would have looked at taking another back. 
 
"We did consider that, but we felt we had the right guys."
 
Iowa will begin spring practices March 21 and the Hawkeyes will hold their annual spring game on Friday, April 20 inside Kinnick Stadium.