Hawkeye Fan Shop — A Black & Gold Store | 24 Hawkeyes to Watch – 2017-18 | Hawk Talk Monthly — Feb. 2017 | Photo Gallery | Final Results (PDF)
IOWA CITY, Iowa — In front of a program-record 3,502 Hawkeye faithful, the University of Iowa women's gymnastics team fell to No. 8 Nebraska, 195.675-194.900, at Carver-Hawkeye Arena on Saturday afternoon.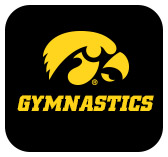 MEET HIGHLIGHTS
Five GymHawks registered seven season bests and four career highs against Nebraska. Seven GymHawks also earned nine top-five finishes.
 
HEAR FROM COACH LIBBY
"Today was kind of an emotional rollercoaster. It's deflating when you start out the competition lower than you expected. Those were some of the best vaults we've done all year. I thought that we did a good enough job tonight that it would have been reflected in the score, but it just wasn't there. I'm proud of the fight our team showed today. I'm also really proud of the bar team for coming back and rocking it under pressure and circumstances."
 
ALL-AROUND
Sophomore Charlotte Sullivan finished second with a score of 38.525. This is her fourth consecutive week finishing in the top-two in the all-around. Junior Nicole Chow followed in third with a 38.425.
 
VAULT
Iowa started the competition on vault with a 48.700. Chow led the Hawkeyes, tying for second place with a career-high 9.800. Junior Maria Ortiz followed with a season-high 9.775, and senior Nikki Youd registered a 9.750.
 
BARS
The Hawkeyes moved to bars next and earned a 48.825. Senior Melissa Zurawski finished in third with a 9.825. Freshman Emma Hartzler and Sullivan followed with scores of 9.775.
 
BEAM
The GymHawks earned their highest score of the meet on beam with a 48.950. Youd placed second with a 9.875, tying her season best. Junior Rose Piorkowski tied her career high with a 9.825, while Chow registered a 9.800.
 
FLOOR
Iowa finished the afternoon on floor with a 48.425. Senior Lanie Snyder led the Hawkeyes, placing third with a 9.850, while Zurawski followed in fourth with a 9.800.
 
UP NEXT
The Hawkeyes host Ball State on Friday at Carver-Hawkeye Arena at 7 p.m. (CT). The meet will be Iowa's annual Pink Meet to promote breast cancer awareness. Doors open at 6 p.m. and parking is free.