IRVING, Texas – The National Football Foundation (NFF) Gridiron Club of Dallas Chapter announced today that College Football Hall of Fame Coach Hayden Fry will receive the chapter's 2018 Legends Award. Fry will accept the honor during the chapter's 10th Annual Awards Banquet on Sunday, March 18, at 6 p.m. CT at the Dallas/Addison Marriott Quorum by the Galleria.
 
"Though many nationally know him for his time as Iowa's head coach, Hayden Fry's impact on the game of football in North Texas cannot be understated," said Gerald Brence, president of the NFF Gridiron Club of Dallas Chapter and athletics director for the Plano Independent School District. "He led huge turnarounds as the head coach at North Texas and SMU, where he also made history recruiting Jerry LeVias and helping to integrate the old Southwest Conference. Few embody the word legend like Hayden Fry, and we are thrilled to honor him with this award."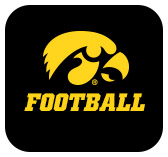 The Legends Award is presented to a former athletics director or coach who has made significant contributions to the game of football, either in the manner in which it is played and watched or the manner in which it is enjoyed by spectators. Past recipients have included Dallas Carter coach Freddie James (2017), Arlington Lamar coach Eddy Peach (2016), Southlake Carroll coach Bob Ledbetter (2015), Garland coach and athletics director Homer Johnson (2014), Plano coach and athletics director Tom Kimbrough (2013), Highland Park coach Frank Bevers (2012), Sherman coach and administrator Tommy Hudspeth (2011), Plano coach John Clark (2010) and Lewisville coach and athletics director Neal Wilson (2009).
 
For 37 years, Hayden Fry was one of the most recognizable faces in college football, and when he retired, his 232 wins placed him 10th all-time in college history. He received college football's ultimate honor when he was inducted into the College Football Hall of Fame in 2003.
 
A native of Eastland, Texas, and a descendant of one of Sam Houston's allies at the Battle of San Jacinto, Fry's career in leadership began at Odessa High School, where he served as class president and quarterbacked the football team to the state title in 1946. He would later attend Baylor University, where he played quarterback for the Bears while earning a degree in psychology. Fry served in the Marine Corps from 1952-55, where he both played and coached football while attaining the rank of captain.
 
At just 26 years old, Fry became the head coach at Odessa High in 1956. He spent three seasons leading the team in West Texas before stints as an assistant coach at Baylor and Arkansas.
 
Fry became the eighth head coach in SMU football history when he was hired in 1962, and he would earn Southwest Conference Coach of the Year honors his first season. In 1966, he led the Mustangs to their first SWC title in 18 years and a trip to the Cotton Bowl. During his 11 seasons on the Hilltop, Fry led SMU to two other bowl appearances, including a win in the 1968 Bluebonnet Bowl. He also served as the university's athletics director for the majority of his tenure with the Mustangs.
 
It was at SMU where Fry made one of the biggest impacts on college football in the South. In 1965, he recruited future College Football Hall of Famer Jerry LeVias, making him the first African-American scholarship athlete and the second African-American football player in the Southwest Conference. The connection between Fry and LeVias would later culminate with the legendary duo inducted together as part of the 2003 College Football Hall of Fame Class.
 
In 1973, Fry became the head coach and athletics director at North Texas, where he orchestrated a massive turnaround. Prior to his arrival, the school had won just seven games in the previous three seasons and was considering dropping from Division I football or even ending the sport altogether.
 
In his first season, Fry led the Mean Green to a share of the Missouri Valley Conference title, and he was named the conference coach of the year. Fry would go on to win 40 games in six seasons, including 19 in his final two years in Denton. One of his biggest wins at UNT came in 1975 when the team upset SEC powerhouse Tennessee on the road. Fry also played a key role in emphasizing the nickname Mean Green over the traditional Eagle mascot. In addition, three of his sons played for him at North Texas.
 
Following his tenure at North Texas, Fry gained national acclaim for sparking a resurgence at Iowa, where his teams were 143-89-6 over 20 seasons (1979-98). In 1981, he coached the Hawkeyes to their first winning season in 19 years with a Big-Ten co-championship and a berth in the Rose Bowl, the school's first bowl appearance in 23 years. That season, he was named the Sporting News College Football Coach of the Year and claimed his first of three Big Ten Coach of the Year awards.
 
Fry won two other Big Ten titles in 1985 and 1990 to send the Hawkeyes to Pasadena. At Iowa, his teams ended the season ranked 10 times and made 14 bowl appearances. Before Fry's arrival, the Hawkeyes had been to just two bowl games in 90 years. His 143 wins at Iowa are tied for the most in school history with current Hawkeye head coach Kirk Ferentz, who served as the offensive line coach under Fry for nine seasons in the 1980s.
 
FRYfest, "a Celebration of all that is Hawkeye" and named after Fry, has been held annually since 2009 in the Iowa City and Coralville area the Friday prior to the beginning of Iowa's football season. In 2016, a life-size statue of the Hall of Fame coach was unveiled at FryFest near Coralville's First Avenue, the primary artery that was renamed Hayden Fry Way in 2009.
 
In addition to LeVias at SMU, Fry coached two other College Football Hall of Famers, Chuck Long and Larry Station, at Iowa, along with NFL Hall of Famer Andre Tippett. Overall, he coached three NFF National Scholar-Athletes: Michael Flagg (Iowa-1987), Derek Rose (Iowa-1998) and Charles Whitener (SMU-1972). Fry served as a member of the American Football Coaches Association (AFCA)'s Board of Trustees from 1984-93, serving as the Association's president in his final year on the Board.
 
A number of players or assistants coaches under Fry have gone on to become successful head coaches, including Barry Alvarez (Wisconsin), Bret Bielema (Wisconsin, Arkansas), Kirk Ferentz (Iowa), Jim Leavitt (South Florida), Chuck Long (San Diego State), Dan McCarney (Iowa State, North Texas), Del Miller (Missouri State), Don Patterson (Western Illinois), Bum Phillips (Houston Oilers, New Orleans Saints), Bob Stoops (Oklahoma), Mark Stoops (Kentucky), Mike Stoops (Arizona), and Bill Snyder (Kansas State). 
 
He has been inducted into multiple halls of fame, including the North Texas Athletics, University of Iowa Athletics, Rose Bowl, Sun Bowl, Peach Bowl, Holiday Bowl, and United States Marine Corps. Fry's numerous awards include the 2015 SMU Lettermen's Association Legends Award, the 2012 American Heart Association Paul "Bear" Bryant Award, the 2005 AFCA Amos Alonzo Stagg Award, the Baylor University Distinguished Alumni Award in 1996, and the University of North Texas Hall of Fame in 2004.
 
After retiring from coaching in 1998, Fry was successfully treated for prostate cancer and moved to Nevada. He recently moved back to North Texas.
The March 18 event will also recognize the best high school and collegiate student-athletes in North Texas and distribute a number of scholarships. Award-winning sportscaster Scott Murray will serve as the evening's emcee for the 10th consecutive year.
 
The event will also provide the stage for the presentation of several other awards, including the Steve Storie Official of the Year Award; the Outstanding Contribution to Amateur Football Award; Media Person of the Year; College Coach of the Year; and the high school coaches of the year awards.
 
The club's awards committee will announce the additional honorees in the near future. For more information on tickets and/or banquet sponsorship opportunities, please contact club president Gerald Brence at 469-878-5370 or via email at Gerald.Brence@pisd.edu.
 
The NFF Gridiron Club of Dallas is one of 120 nationwide chapters of the National Football Foundation (NFF) & College Hall of Fame. The NFF is a non-profit educational organization that runs programs designed to use the power of amateur football in developing scholarship, citizenship and athletic achievement in young people. NFF programs include the College Football Hall of Fame in Atlanta, the NFF Leadership Hall of Fame, the William V. Campbell Trophy® presented by Fidelity Investments, the NFF Scholar-Athlete Awards presented by Fidelity Investments, the NFF High School Showcases, the NFF Hampshire Honor Society and scholarships of more than $1.3 million for college and high school scholar-athletes.