Hawkeye Fan Shop — A Black & Gold Store | 24 Hawkeyes to Watch 2017-18 | Hawk Talk Monthly — February
Editor's Note: The following first appeared in the University of Iowa's Hawk Talk Daily, an e-newsletter that offers a daily look at the Iowa Hawkeyes, delivered free each morning to thousands of fans of the Hawkeyes worldwide. To receive daily news from the Iowa Hawkeyes, sign up HERE.
By MADISON PETERSEN
hawkeyesports.com
IOWA CITY, Iowa — On Friday evening, Carver-Hawkeye Arena will go from black and gold to pink.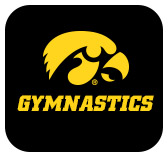 The University of Iowa women's gymnastics team will host Ball State for its annual Pink Meet — a story that dates back 15 years.
 
In 2003, former University of Iowa women's gymnastics assistant coach Talya Vexler was in her final year at the University of Georgia where she had finished her career as a three-time All-American and she helped the Bulldogs to a national title in 1999.
 
With her eligibility expired, Vexler was finishing her degree in business administration and enjoying being a 'normal student' — until she found a small lump on the side of her breast.
 
The doctors told her not to worry; she was young and it was probably just a cyst.  They urged her to come back in a month just as a precaution. She waited two months, and when she returned, the lump was still there and a biopsy showed cancer.  She was 23.
 
Although there had been no history of cancer in Vexler's family and women aged 20-24 had the lowest incidence rate (1.4 women out of 100,000 women), she was one of those rare cases.
 
Vexler underwent a double-mastectomy and 16 weeks of chemotherapy while finishing her degree. Georgia hosted the nation's first Pink Meet in her honor in 2004 — raising more than $100,000 for the Athens Regional Medical Center's Breast Cancer Center. Schools across the nation joined the fight and started hosting Pink Meets in 2005.
 
Today, the Pink Meet serves as a reminder of how important it is to be aware of your body — no matter your age.
 
"With social media and everything nowadays, you're aware of a lot more things," said Iowa head coach Larissa Libby.  "Having young women in our sport, we want to make sure that they are checking, because you just never know. There are so many more cancers that go unnoticed and that nobody is aware of. We try to use the Pink Meet to bring awareness to all cancers, not just breast cancer."
 
The meet has helped bring awareness to not only the sport of gymnastics and its athletes, but to fans as well.
 
"When Talya coached here, we were away competing at Michigan State's Breast Cancer Awareness Night and they honored her with pink roses and she told her story," said Libby. "She pleaded with people — 'I know you think you're young, but if at any point you think it might be, just go. I know you're afraid, but go.'
 
"After we came home, she got an email from a young woman who had been in the stands — who only went to the doctor because of what Talya had said. She had been afraid, but she went to the doctor anyways and it ended up being cancer. They caught it early, though, and she was fine. To this day, she is fine, but she would never have been if they wouldn't have caught it."
 
The thought of being sick is often scary, but being aware of the possibilities and paying attention to the signs of cancer may help catch it early.
 
"That's why this meet and bringing awareness is so important," said Libby. "You have to be aware of your body — you just have to know what's normal and what isn't. It can save your life."
 
The GymHawks' annual Pink Meet begins at 7 p.m. (CT) at Carver-Hawkeye Arena. Iowa will have pink warm ups, and fans are encouraged to wear pink. Different color ribbons will be distributed honoring awareness of various types of cancer.