Hawkeye Fan Shop — A Black & Gold Store | 24 Hawkeyes to Watch – 2017-18 | Fight For Iowa | Hawk Talk Monthly — February 2018 | Big Ten Championships Central
Editor's Note: The following first appeared in the University of Iowa's Hawk Talk Daily, an e-newsletter that offers a daily look at the Iowa Hawkeyes, delivered free each morning to thousands of fans of the Hawkeyes worldwide. To receive daily news from the Iowa Hawkeyes, sign up HERE.
By JAMES ALLAN
hawkeyesports.com
IOWA CITY, Iowa — The University of Iowa men's swimming and diving team's successful dual season has the Hawkeyes beaming with confidence leading into the 2018 Big Ten Championships.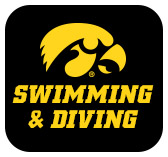 Iowa posted a 5-1 dual record in 2017-18, including going 4-0 in Big Ten action. Two of those victories came against Minnesota and Purdue — teams that finished above the Hawkeyes during last season's championships.
 
"We have been working hard the entire season and keeping the energy level high," said sophomore Joe Myhre. "Knowing that we can knock off those teams going into the championship season adds a lot to our confidence.  We're trying to keep that going."
 
The Hawkeyes open competition Wednesday with finals action in the 200-medley relay and 800-freestyle relay at 6:30 p.m. (CT) at the Jean K. Freeman Aquatic Center in Minneapolis.  Prelims begin at 11 a.m. Thursday through Saturday with finals following at 6:30 p.m.
 
"We're feeling good," said junior Jack Smith, who enters the championships with top-17 times in the 50 and 100 free. "The men's team has done well all season and we're looking to continue doing what we're doing. I am confident that everyone is going to swim well."
 
Iowa has 15 student-athletes with 26 top-24 times leading into the championships.  The Hawkeyes have two student-athletes — junior Kenneth Mende and freshman Daniel Swanepoel — with potential "A" final times.
 
Mende's 100 back time of 47.28 is tied for third in the Big Ten, while his 1:43.76 in the 200 back is fourth. Swanepoel has the eighth and ninth-best times in the 100 (53.74) and 200 breast (1:57.18), while diver Anton Hoherz has the ninth-best time off the platform.
 
"We have a good chance this time around to bump up in the rankings, which is exciting," said Swanepoel. "I think we can do well if we keep our heads down and go for it."
 
The Hawkeyes have the best chance to make noise (and score big points) in the relays. Entering the week, Iowa has the third-fastest time in the 400-free relay (2:54.35) and the fifth-best times in the 200-free (1:19.61), 200-medley (1:27.53), and 400-medley (3:13.60) relays.
 
"(Relays) are a lot of fun," said Myhre. "We're known for performing well in our relays and scoring a lot of points there.  I am looking forward to racing."
 
Iowa head coach Marc Long sees that hunger.  He sees a team that is confident and eager to improve on last season's eighth place finish. 
 
"They have worked hard to come together and we have some lofty goals for moving up (the standings)," said Long. "Moving up and winning events is the goal and getting a sizable chunk to NCAAs so they can score.
 
"If we can do that, that means the meet is going well.  This group is confident, they have stepped up and I am excited to go with them to this performance.  (This championship) is very competitive; it will be a good battle between a lot of teams at this meet."
 
"The Big Ten is a great conference, but we're hanging up there (with a lot of teams)," said Myhre. "I think we have what it takes to move up (the standings) quite a bit."