Hawkeye Fan Shop — A Black & Gold Store | 24 Hawkeyes to Watch 2017-18 | Hawk Talk Monthly — February 2018 | WBB Tickets
By DARREN MILLER
hawkeyesports.com
IOWA CITY, Iowa — University of Iowa head women's basketball coach Lisa Bluder is pulling for C. Vivian Stringer to win her 1,000th game as a head coach. She says she will celebrate when Stringer achieves the milestone.
 
But Bluder is glad it won't happen tonight when the Hawkeyes (21-6 overall, 9-5 Big Ten) face Rutgers (19-9, 7-7) at the Rutgers Athletic Center in Piscataway, New Jersey.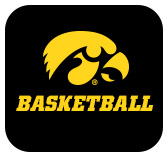 Actually, it can't happen. Stringer, who won 269 games at Iowa from 1982-95, is in her 47th season as a head coach (23rd at Rutgers) and owns a career record of 996-399.
 
"I certainly want her to get her 1,000th victory, but I am glad she is (four) away at this point," Bluder said Tuesday during a teleconference. "I didn't want it coming down to being us against them for her 1,000th victory."
 
Seeding for the upcoming Big Ten Tournament in two weeks is at stake. Iowa is fifth in the Big Ten and Rutgers is ninth, two games behind the Hawkeyes.
 
In Iowa's case, points could be at a premium. The Hawkeyes are fourth in the Big Ten, averaging 79.7 points per game, but the stingiest defense in the conference awaits. The Scarlet Knights lead the league by limiting opponents to 58.5 points per game.
 
"They are athletic and they hang their hat on (defense)," Bluder said. "They can create chaos. If you don't keep your composure, that can result in turnovers and turnovers can result in easy baskets for them.
 
"We have to keep our composure, we have to break the press. Those are things that are important."
 
Rutgers is 13-2 at home this season, but the Hawkeyes have won the last two meetings in The RAC: 71-59 on Jan. 17, 2017, and 79-72 on Jan. 4, 2015.
 
"What concerns me about this year's team is they have four seniors and it's Senior Night," Bluder said. "It is the last home game for Tyler Scaife, one of their most recognized players in recent years. You never know what added emotions are going to come or what added crowd they will have to recognize these kids."
 
Scaife leads Rutgers in scoring at 19.4 points per game. Other seniors for the Scarlet Knights are Kathleen Fitzpatrick (1.5 points per game), Nigia Greene (5.6), and Jazlynd Rollins (6.4).
 
The game at Rutgers marks Iowa's final road game of the regular season. It will serve as one more opportunity to barnstorm All-America candidate Megan Gustafson to the east coast. The 6-foot-3 junior leads the Hawkeyes and the Big Ten in scoring (24.9 points per game), rebounding (12.6 rebounds per game), and field goal percentage (66.3).
 
University of Iowa athletics communications (assistant director Brandee Britt), marketing (assistant director Rachael Bedell), and HawkVision Productions (assistant director Zach Grant) took the lead in developing a votegustafson.com web site that promotes Gustafson for All-American accolades.
 
"I'm a big advocate for Megan, she deserves it and she should be the Big Ten Player of the Year," Bluder said. "In my opinion she is one of the top 10 players in America and I would like to see her get that honor. It would be nice for Hawkeye fans to have that happen and have her come back another year and see that all unfold.
 
"She has put up All-American numbers consistently all year. I'm glad we are working on getting her the recognition she so richly deserves."
 
The Hawkeyes and Scarlet Knights tip off at 6 p.m. (CT). The game will be streamed on BTN Plus; audio coverage will be provided by Rob Brooks and Jamie Cavey Lang via the Hawkeye Radio Network.