Hawkeye Fan Shop — A Black & Gold Store | 24 Hawkeyes to Watch – 2017-18 | Hawk Talk Monthly — February 2018
Editor's Note: The following first appeared in the University of Iowa's Hawk Talk Daily, an e-newsletter that offers a daily look at the Iowa Hawkeyes, delivered free each morning to thousands of fans of the Hawkeyes worldwide. To receive daily news from the Iowa Hawkeyes, sign up HERE.
By: BREANNA KELLOGG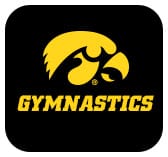 IOWA CITY, Iowa — The 10th-ranked University of Iowa men's gymnastics team has spent a lot of time on the road. Now the Hawkeyes have an opportunity show what they can do in front of a home crowd.
 
"We have been traveling a lot and it is a pretty intense season," said Iowa head coach JD Reive. "It is nice to be at home, sleeping in your own bed, and having these events here. It is also nice to get the fan base out, get some support, and get in Carver-Hawkeye Arena three weekends in a row."
 
Being at home is more than sleeping in your own bed and competing in a familiar environment. It is about the atmosphere and the energy the fans bring.
 
"It is always good having a home crowd because it is your family and friends," said junior Jake Brodarzon. "It is more motivating because it is louder and you have the home crowd feel. It gives us more energy. We feed off of that and it improves our gymnastics."
 
Freshman Kulani Taylor has just one meet under his belt, but he understands what competing with the Hawkeye faithful in the stands brings to the meet. 
 
"The fans bring a lot of energy compared to the away meets," said Taylor. "There is a lot more support and it is a lot louder. That helps motivate our team to do better and push harder."
 
The fans will have a huge impact the next three weekends, as the Hawkeyes face Big Ten foes No. 5 Nebraska, No. 2 Penn State, and No. 6 Minnesota.
 
"I am excited to be home and I am excited to have Carver as the venue for the next three meets, including two tri-meets, as there are a lot of teams coming in," said Reive. "I like hosting here. It is a great venue to compete in.
 
"The energy, excitement, and the noise fans bring contribute to how the gymnasts feel when they compete and how they present. It is so much more fun and exciting when the meet is at home. You can see the energy come out in the gymnasts' performances and in their confidence levels."
 
The increase in performance and confidence levels could not come at a better point in the season.
 
"Now that it is five-up, five-count, having home meets and being comfortable in our own setting will help us boost our confidence and increase our rankings because we will score better at home," said Brodarzon.
 
This is crucial as Iowa has four meets remaining before postseason begins.
 
"Our schedule allows us to ramp up as we get to the postseason," said Reive. "It is nice to have a couple of weeks to train hard and recuperate and not have the travel component because once the postseason hits that is where we are going to be."
 
The Hawkeyes host No. 5 Nebraska at Carver-Hawkeye Arena on Feb. 23. The meet is scheduled to begin at 8 p.m. (CT), and it will be televised on BTN.