Hawkeye Fan Shop — A Black & Gold Store | 24 Hawkeyes to Watch 2017-18 | Hawk Talk Monthly — February 2018 | WBB Tickets
By DARREN MILLER
hawkeyesports.com
IOWA CITY, Iowa — A big, happy, goofy, positive presence on the University of Iowa women's basketball team will play her final game inside Carver-Hawkeye Arena on Saturday at 11 a.m. (CT).
 
Senior Chase Coley, a 6-foot-3 forward from Minneapolis, admits she isn't the best shooter, ball-handler, or passer on the team. But there isn't a Hawkeye who has a larger voice…or has more fun.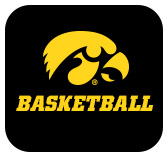 "I have a big voice and I know how to use it," Coley said. "I want to make sure all the girls I have played with and the ones I am leaving behind know their voice is important and having fun is a big part of this.
 
"I know I'm a decent basketball player, but I'm good at having fun and making other people have fun with me."
 
Coley and redshirt junior Carly Mohns will be recognized Saturday after Iowa plays Indiana on Mediacom Court. The game will feature the two hottest teams in the Big Ten Conference; Indiana (16-12 overall, 9-6 Big Ten) has won eight straight games and Iowa (22-6, 10-5) has won six in a row.
 
The Hawkeyes began their winning streak with a 71-68 overtime decision Feb. 1 at Michigan State. With :07 left in the extra period, sophomore Kathleen Doyle passed to Coley, who swished a 15-foot jumper from the left baseline. It gave Iowa the lead for good.
 
"I think Chase is a great shooter from 15 feet, it's beautiful," Iowa head coach Lisa Bluder said Friday during a news conference in Carver-Hawkeye Arena.
 
Coley played 29 minutes against the Spartans and the game-winner was just her second field goal of the night (in three attempts).
 
Another performance that endorses Coley's growth as a player came Wednesday when Iowa overcame a 13-point second-half deficit to knock off Rutgers in overtime on the road. In the first half, Coley made 1 of 5 field goals and 1 of 2 free throws for three points in 16 minutes. In the second half and overtime, Coley made 5 of 7 field goals and 7 of 8 free throws for 17 points over her final 25 minutes.
 
"She flushed it and had a great second half," Bluder said. "(Seventeen) points in second half (and overtime) opened things for (center) Megan (Gustafson) with her outside play."
 
For the season, Coley averages 9.2 points and 5.9 rebounds in 28 games. Those numbers increase to 10.7 points and 6.7 rebounds in 15 Big Ten games.
 
Then, there are the intangibles she brings to the locker room and court.
 
"Chase is just fun, she is the life of the party," Bluder said. "She has the biggest heart and loves her teammates. She has had a terrific senior year — this is the best basketball she has played since arriving on campus."
 
Like most Senior Day ceremonies, it is setting up to be an emotional Saturday for Coley. Her maternal grandfather, father, stepmother, two sisters, and brother will accompany her to the court postgame. Coley's biological mother passed away when she was a freshman at Washburn High School, where her father, Tylor, was a basketball coach.
 
"Basketball has been a big part of my life," Coley said. "It has been me, my dad, and my little sister's (Kendall) thing since ninth grade when my mom passed away. My dad was the coach and I was on the team and my little sister got hauled around with us. It was us three in a car going to basketball practice or going home, to the gym to shoot, then to eat, then going to watch basketball. It has been a glue that held my family together through a lot of tough times."
 
Coley glowed when talking about her family's game day routine.
 
"My family is late to everything, so they usually get there right at tip," Coley said with a laugh. Then she continued:
 
Four-year-old brother Khaysen will scream at the top of his lungs from above the tunnel and 2-year-old sister Cade, aka Boo Boo Kitty, will be decked out in her Iowa Hawkeyes cheerleading outfit.
 
After the game, Khaysen and Cade will join Chase in the locker room, where the young siblings will eat oranges, Khaysen will hug Bluder, and "talk, talk, talk, talk, and talk some more."
 
"They probably won't be making many trips to Iowa any time soon after that," Coley said.
 
Coley will graduate in May with a degree in international business and development. She is focusing on the conclusion of her basketball career before focusing on life outside the University of Iowa. With 22 basketball victories, one goal is within reach.
 
Coley recalls a preseason meeting where Bluder asked for season objectives, preferably short-term. Coley and her teammates had a resounding reply: advance to the NCAA Tournament in March.
 
"It has been fun seeing how this season has played out," Coley said. "Seeing it wind down on a good note has been exciting."
 
Capping it with a Senior Day victory would be special.
 
Especially for a big, happy, goofy, positive presence like Coley.