Hawkeye Fan Shop — A Black & Gold Store | 24 Hawkeyes to Watch – 2017-18 | Fight For Iowa | Hawk Talk Monthly — February 2018 | Friday Results (PDF)
MINNEAPOLIS — Four school records and an NCAA automatic qualifying performance highlighted the University of Iowa men's swimming and diving team's Friday at the 2018 Big Ten Swimming and Diving Championships.
 
The Hawkeyes made the biggest splash in the final event of the evening, swimming to a fourth-place finish in the 200-free relay.  The quartet of junior Jack Smith, sophomore Will Scott, junior Matt Kamin, and sophomore Joe Myhre sprinted to an NCAA "A" time of 1:17.50.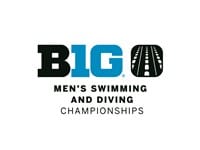 The performance broke the school record of 1:17.61 (Ryan Phelan, Gianni Sesto, Duncan Partridge, and Paul Gordon) that had stood since 2012.
 
Iowa also had a pair of "A" finalists in the 100 fly and 100 back.  Junior Kenneth Mende finished fourth overall in the 100 back with a time of 46.80 seconds, just off his career-best time of 46.79 that he set during Thursday's lead leg in the 400-medley relay.
 
Senior Jerzy Twarowski had two school records on Friday.  He broke his own school record in the prelims, swimming to a time of 46.27 seconds.  He upped himself during the nightcap, posting a time of 46.07 seconds to place fifth. 
 
Senior Chris Dawson notched the fourth school record on the day in the 400-individual medley.  The Colorado native won the "B" final with a time of 3:46.80 to break Tyler Lentz's school record (3:47.65) that had stood since 2002.
 
The Hawkeyes also had two additional finalists in the 100 fly with Colter Allen placing 18th with a time of 47.07 seconds.  He finished second in the "C" final.  Junior Michal Brzus also tied for 23rd with a time of 47.83 after swimming a career-best 47.56 in the prelims.
 
Sophomore Michael Tenney tallied an 18th place finish in the 500 free with a time of 3:51.60, while two Hawkeyes — freshman Daniel Swanepoel and junior Tanner Nelson — scored in the 100 breast.  Swanepoel placed 14th with a time of 53.97 (he swam a 53.90 in prelims), while Nelson was 23rd in 54.99 seconds.
 
Iowa had two divers score off the 3-meter springboard.  Senior Matt Mauser tied for 17th with a score of 364.10, while junior Will Brenner placed 23rd with 338.45 points.
 
The Hawkeyes remain in seventh place in the team standings with 377.5 points.  Indiana is leading the team race with 1090.5 points, while Michigan is second with 1080 points.
 
Iowa closes out the Big Ten Championships on Saturday beginning at 11 a.m. (CT) with the prelims of the 200 back, 100 free, 200 breast, 200 fly, and platform diving.  The 1,650 free begins at 4:23 p.m. followed by event finals of each of these events as well as the 400-free relay.