Hawkeye Fan Shop — A Black & Gold Store | 24 Hawkeyes to Watch – 2017-18 | Hawk Talk Monthly – March 2018
Editor's Note: The following first appeared in the University of Iowa's Hawk Talk Daily, an e-newsletter that offers a daily look at the Iowa Hawkeyes, delivered free each morning to thousands of fans of the Hawkeyes worldwide. To receive daily news from the Iowa Hawkeyes, sign up HERE.
By BREANNA KELLOGG
hawkeyesports.com
IOWA CITY, Iowa — When it comes to the University of Iowa men's gymnastics seniors, two characteristics come to mind — hard work and fun.
 
"I hope that the gymnasts who have been looking up to our class know that they are allowed to have a lot of fun and work hard at the same time," said co-captain Dylan Ellsworth. "When you are young, you think that you have to work super hard but we, as a senior class, did some of both. We learned that you are allowed to have fun and enjoy your time on the team as well as learning how to work as hard as you can, so you can enjoy those moments as well."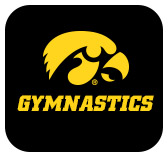 Both of Iowa's senior captains — Austin Hodges and Ellsworth — agree that having fun is an important part of enjoying the time spent on the team.
 
"My advice to the classes below us is to not take things too seriously," said Hodges. "Make sure you are always having fun. I feel like I tend to take things a little too seriously and it sucks the fun out of it."
 
For the Hawkeyes, the fun starts with team chemistry.
 
"I think I am going to miss the team most," said senior Elijah Parsells. "Always having a group of guys that you can rely on whenever anything bad happens or if something good happens you always have people to tell your good news to."
 
The senior class hopes they leave behind a more close-knit team to enjoy all the moments together.
 
"I hope that the senior class leaves behind a closer team," said redshirt senior Mark Springett. "I hope we leave behind a team that is willing to be open with one another in order to become better and does what is needed such as openly communicating with ourselves and our coaches for the betterment of the team."
 
Iowa head coach JD Reive can see how much of impact this class has had on the team and how they have helped shape the culture for future teams.
 
"I can say that this class has probably been the most influentially transformative group of guys that I have had," Reive said. "They came into a team that was establishing the ground rules of culture and have helped shift that into a positive direction in all aspects.
 
"This group has been amazing in that growth period and it is kind of cool to watch where they were four years ago and where they are now. It is nice to look back on these situations and know who they were when they got here and who they are now. I am proud of that as we go through and I see them graduating."
 
Now, with two meets remaining in the regular season, the Hawkeyes look to put in the hard work in preparation for the postseason.
 
"One moment that sticks out to me during my time on the team is making team finals freshmen year," said Hodges. "That was special because we were ranked lower than all the other teams and we made it into the top six. That was a lot of fun."
 
It is a memory all four seniors look to duplicate this spring.
 
The Hawkeyes host No. 6 Minnesota and No. 11 Air Force at Carver-Hawkeye Arena on March 11 for Senior Day. The meet is scheduled to begin at 1 p.m. (CT).