Hawkeye Fan Shop — A Black & Gold Store | 24 Hawkeyes to Watch – 2017-18 | Fight For Iowa | Hawk Talk Monthly – March 2018
Editor's Note: The following first appeared in the University of Iowa's Hawk Talk Daily, an e-newsletter that offers a daily look at the Iowa Hawkeyes, delivered free each morning to thousands of fans of the Hawkeyes worldwide. To receive daily news from the Iowa Hawkeyes, sign up HERE.
By JAMES ALLAN
hawkeyesports.com
IOWA CITY, Iowa — Three University of Iowa women's swimmers and divers are set to make a return trip to Columbus, Ohio.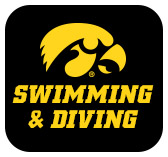 Sophomores Hannah Burvill and Thelma Strandberg and freshman Jayah Mathews will compete in the NCAA Championships from March 15-17 at the McCorkle Aquatic Pavilion. Burvill will swim in the 200-yard freestyle, Strandberg will dive off the platform, and Mathews will compete off the 1-meter springboard.
 
"This is special," said Burvill, who will be making her NCAA Championships debut. "It's so special to be able to take part in something like this. I didn't expect that I would make NCAAs. I always had that drive and want to, but I didn't know if it was going to quite happen. I am glad it did, especially in my sophomore season."
 
Burvill posted her qualifying time during the lead leg of the 800-freestyle relay at the 2018 Big Ten Championships in Columbus on Feb. 14, when she posted a school-record time of 1:44.42. 
 
"I had a good feeling about (the time), but there was always a part of me that didn't want me to get my hopes up," said Burvill. "When I found out I was in, I called my parents (in England) right away. It was an exciting feeling."
 
Burvill has the 22nd-best time nationally in the event. She'll compete on Friday, March 16.
 
"I am trying not to hype it up in my head too much," said Burvill. "It's nice going in and not knowing what to expect. I have been told it is a less pressure, more relaxed meet, which is nice to know. That gets me a little more motivated."
 
Strandberg will be making her second straight NCAA Championships appearance off the platform, while Mathews will also be making her debut.  Last season, Strandberg was excited to be there, this year she wants to take that next step.
 
"Last year I was surprised to make it," said Strandberg, who finished 35th in the event in 2017. "This year I think I am more prepared to do well at the NCAAs. I want to make it to a final; that's my goal for the meet.
 
"I want to dive as well as I can and hope that's enough. There isn't any pressure, I just want to dive well and show everyone what I can do."
 
Mathews will be the first Hawkeye in action, diving in the 1-meter trials on Thursday beginning at 11:30 a.m. (CT).  Burvill will compete in the 200-yard freestyle on Friday beginning at 8 a.m., and Strandberg will round out the weekend, competing off the platform on Saturday at 11:15 a.m.
 
Buckeye Vision will have the majority of the coverage for the meet free on OhioStateBuckeyes.com.