24 Hawkeyes to Watch – 2017-18 | Hawk Talk Monthly — March 2018 | KinnickEdge
IOWA CITY, Iowa – – Individual game promotions, ticket package and pricing options, and the spring and summer schedule for ordering Hawkeye football tickets for the 2018 seven-game home schedule have been announced by the University of Iowa Athletics Department.
 
The Hawkeyes open the season with four straight home games, beginning Sept. 1 against Northern Illinois. Iowa also hosts Iowa State in the Iowa Corn Cy-Hawk Series (Sept. 8), and Northern Iowa (Sept. 15) before opening Big Ten Conference action Sept. 22 against Wisconsin, the defending West Division champions.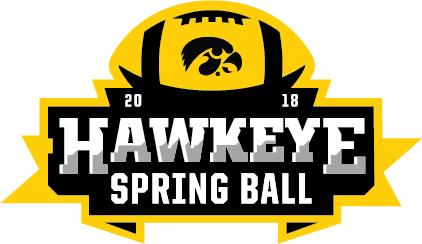 Following September, Iowa home games include Homecoming versus Maryland, Family Weekend versus Northwestern, and the Hy-Vee Heroes game against Nebraska on the day after Thanksgiving. Wisconsin (13) and Northwestern (10) each won at least 10 games last season, while Northern Illinois, Iowa State, and Northern Iowa each won eight games and participated in postseason play. Iowa closed the 2017 campaign with wins at Nebraska (56-14) and over Boston College (27-20) in the New Era Pinstripe Bowl.
 
"We are excited about our 2018 home schedule and the opening of the new north end zone in Kinnick Stadium," said Gary Barta, the Henry B. and Patricia B. Tippie Director of Athletics Chair. "Our pricing structure and ticket packages provide Hawkeye fans the opportunity to select the games they wish to attend through a number of options. We anticipate a high demand for the premium games on our schedule."
 
The season ticket renewal process is currently underway for general public and Faculty/Staff renewals, with the deadline set for March 31. Student ticket orders will be accepted beginning April 2. Fans who are not currently season ticket holders and are interested in purchasing season tickets can order online by visiting hawkeyesports.com/fightforiowa to be placed in the seat selection process.  Signing up immediately allows fans into the queue for the best locations as they become available. The process for choosing seats begins on or around May 18.
 
General public season tickets for the seven game homes are $415, with Faculty/Staff season tickets set at $345. UI student season tickets are $150 for all seven home games and $125 for six dates (Nebraska game not included). Season ticket seat locations are available in all sections of Kinnick Stadium.
 
The advantage of purchasing a season ticket is an $80 savings over the cost of single game tickets. Season ticket holders earn ticketing priority over the general public for single game, special events, and postseason contests. Individual game ticket prices include $50 for Northern Illinois and Northern Iowa, $65 for Maryland and Northwestern, $75 for Nebraska, and $95 for Iowa State and Wisconsin. The average single game cost for a season ticket holder is $59.29.
 
Along with full season tickets, fans have two additional ticket packages to select from. The Fight For Iowa Mobile Pass will go on sale May 1. The season pass delivers fans a different seat location for each game via text message for $250. Fans can purchase up to eight mobile pass seats together.  Only 1,000 mobile passes will be sold.  The mobile pass does not include priority point credit, access to Kinnick Stadium parking, or other full season ticket benefits.
 
The popular three-game mini-packs ($195) go on sale June 7. Fans will be able to pick three games from either Iowa State or Wisconsin, either Maryland, Northwestern, or Nebraska, and either Northern Illinois or Northern Iowa. Mini-pack holders save approximately 10 percent off single game ticket prices and guarantee seats to either the Iowa State or Wisconsin games.
 
Single game tickets go on sale to Kinnick Society and Kinnick Gold members on May 29, to Golden and Champion Hawk members on May 30, and to renewed season ticket holders and I-Club members on May 31. General public single game ticket orders will be accepted beginning July 16.
 
Group ticket packages will be offered for all games except Iowa State and Wisconsin. Group tickets (20 or more) become available June 25. Group leaders can contact the UI Athletics Ticket Office for additional information.
 
Iowa's opening contest against Northern Illinois ($50) is the Gold Game for Cancer Research, with all fans encouraged to wear gold. It is also Spirit Squad Day, where youth squads have the opportunity to perform with the Iowa Spirit Squads and the Hawkeye Marching Band at halftime (hawkeyesports.com/spiritsquadday).
 
The Iowa Corn Cy-Hawk Series contest versus Iowa State ($95) is the following weekend, as both Iowa and Iowa State concluded the 2017 season with eight wins and a bowl victory.
 
Iowa will host Northern Iowa ($50) for the first time since 2014 in the Fight For Iowa Game. Fans are encouraged to wear Fight For Iowa apparel for the celebration of all that is Iowa.
 
The annual ANF Game is against Wisconsin ($95) for the Big Ten opener. It is also the Black and Gold Spirit Game, with fans wearing ANF gear in alternating colors by section. The Iowa Farm Bureau will recognize the latest addition to the ANF Wall of Honor.
 
The Hawkeyes host Maryland ($65) for Homecoming on Oct. 20. Iowa will celebrate the 10th anniversary of the Kid Captain program. 
 
Military Appreciation Day will be celebrated as Iowa hosts Northwestern ($65) on Nov. 10. It is also the annual Family Day Weekend and the Blackout Game, with fans encouraged to wear black clothing.
 
Iowa closes the regular season with Senior Day on Nov. 23, hosting Nebraska ($75) in the annual Hy-Vee Heroes game. Iowa and Nebraska will continue to honor citizen heroes from each state as Hawkeye seniors close out their careers in Kinnick Stadium.
 
Iowa football has posted back-to-back eight-win seasons and has posted a 28-12 record over the past three campaigns. Head coach Kirk Ferentz begins his 20th season in 2018 one win shy of becoming the winningest head coach in program history. Ferentz and Hayden Fry have each led Hawkeye football to 143 victories.
 
Questions concerning the purchase of 2018 football tickets, including general public, UI faculty/staff and UI students, should be directed to the UI Athletics Ticket Office. The office is open weekdays from 9 a.m. to 4 p.m. The office telephone number is 1-800-IA-HAWKS, or fans can chat live with the ticket office staff on hawkeyesports.com. Information is also available at hawkeyesports.com/fightforiowa.
 
2018 Iowa Ticket Sales Calendar
March 31:    Season Ticket Renewal deadline
April 2:         Student tickets on sale
May 1:          Fight for Iowa Mobile Pass on sale
May 29:        Single Game tickets on sale to Kinnick and Kinnick Gold members
May 30:        Single Game tickets on sale to Golden and Champion Hawk members
May 31:        Season Ticket Donation deadline
May 31:        Single Game tickets on sale to renewed season ticket holders/I-Club members
June 1:         New Season Tickets with locations on sale
June 7:         Mini-Packs on sale
June 25:       Group Tickets on sale
July 16:        Remaining single game tickets on sale to the general public (except ISU and Wisconsin)
July 23         Remaining single game tickets to Iowa State and Wisconsin games on sale to the general public
 
Following is Iowa's 2018 football schedule.  Start times and television information are not yet available.
 
2018
Sept. 1         Northern Illinois
Sept. 8         Iowa State (Iowa Corn Cy-Hawk Series)
Sept. 15       Northern Iowa
Sept. 22       Wisconsin (ANF Game, presented by Iowa Farm Bureau)
Oct. 6          at Minnesota
Oct. 13        at Indiana
Oct. 20        Maryland
Oct. 27        at Penn State
Nov. 3         at Purdue
Nov. 10       Northwestern
Nov. 17       at Illinois
Nov. 23       Nebraska (Hy-Vee Heroes Game)