Hawk Talk Monthly — March 2018 | Sign Up For Season Tickets | Ticket Renewal Link | VIDEO — Players Discuss Spring Practice
By JAMES ALLAN
hawkeyesports.com
IOWA CITY, Iowa — More is better for the University of Iowa defensive line.
 
The Hawkeyes routinely went 8-10 players deep and as many as 11 players rotated during an eight-win 2017 season.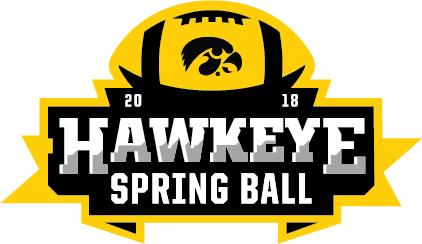 "As a coach you're nervous and protective about (playing that many guys), but then we saw Sam Brincks making plays in the Penn State game and Brady (Reiff), Garrett (Jansen), A.J. (Epenesa), and Matt (Nelson) playing at a high level," Iowa defensive line coach Reese Morgan said during a Tuesday news conference inside the Stew and LeNore Hansen Football Performance Center.
 
"It's great for camaraderie, the morale of the group, and fresh bodies help. Even though there might be one better (at stopping the run or pass rushing), collectively, it's better for our team if we have the guys that can do it."
 
Heading into the 2018 season, Morgan says Iowa is deeper on the defensive line.  The Hawkeyes return three starters and seven of the eight players listed on the spring two-deep were in the rotation a season ago.  That doesn't include Matt Nelson, who started the final seven games at defensive tackle.
 
The list includes senior Parker Hesse, who Morgan calls the core Hawkeye.  The Waukon, Iowa, native has started the last 24 games over the past two seasons and has 34 career starts.
 
"He is the glue that keeps us together," said Morgan. "We interview players at the end of the season, we ask who you respect and why you respect them, and Parker is one of the guys at the top of that list.
 
"It's because of the way he works and the day-to-day operations. He finishes everything and is as tough as they get."
 
Hesse finished with 43 tackles, including 10.5 tackles for loss as a junior.  He also had four sacks, two forced fumbles, and a key interception in Iowa's come-from-behind victory at Iowa State in the Iowa Corn Cy-Hawk Series.
 
"Parker is a guy you don't want to take off the field, but he's a guy that knows if it's going to help the team, we're going to (rotate players)," said Morgan.
 
One of the more intriguing players on Iowa's defensive front, ironically, is Hesse's backup — sophomore A.J. Epenesa.  Last season as a true freshman, Epenesa earned Big Ten All-Freshman team honors after recording 15 tackles, including 5.5 tackles for loss and 4.5 sacks.
 
"It is difficult for a young guy to do what A.J. did in the fall, to come out as a true freshman and be put in there," said Morgan. "He has the athleticism and the other guys helped him along in mentoring him.
 
"His goal now is to learn the defense more and understand the adjustments to perfect and work on the technique and fundamentals, not only in the pass game, but the run game. He's on the right path, but it takes time. He's further ahead than a lot of guys in our program at that stage."
 
Morgan says sophomore Chauncey Golston (6-foot-5, 265 pounds) has moved inside from the defensive end position to give Iowa more depth and size at tackle. He'll join a group of Cedrick Lattimore (6-3, 295), Reiff (6-3, 272), Jansen (6-2, 280, and Dallas Jacobus (6-0, 280), who are listed on the spring depth chart that must replace All-Big Ten performer Nathan Bazata.
 
"Cedrick is our returning guy, we like what he's doing and his approach," said Morgan. "Brady is healthier than he was last season and looks fresh and Garret Jansen has shown improvement. Chauncey slides in to get more reps and has done a good job."
 
While the pieces are in place for the front four to provide leadership to an Iowa defense that lost its three starting linebackers and two All-Americans, Morgan says the group has some to do.
 
"We have to be better in leadership," said Morgan. "Right now they're good guys and they're going to have to step up, do more. Every snap in practice is the most important snap they're going to take. They have to do it by example and verbally. 
 
"We don't have a verbal group of guys, they're very compliant, studious, hard-working guys.  They have to raise a little ruckus every once in awhile."
 
Reminder that the football season ticket renewal deadline is March 30 (LINK). Visit hawkeyesports.com to sign up for new season tickets and be included in the seat selection process (LINK).