Hawk Talk Monthly — March 2018 | Sign Up For Season Tickets | Ticket Renewal Link | Spring Practice 5 Photo Gallery | Spring Practice 4 Photo Gallery
By DARREN MILLER
hawkeyesports.com
IOWA CITY, Iowa — Phil Parker and Seth Wallace didn't drive 5 ½ hours on snowy, ice-covered roads for nothing.
Parker, defensive coordinator for the University of Iowa, and Wallace, assistant defensive coordinator and linebackers coach, drove miles off the beaten path three years ago to recruit Kristian Welch from Iola, Wisconsin.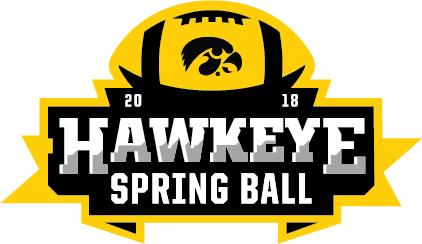 Welch is listed on the preseason depth chart as the Hawkeyes' starting middle linebacker. The previous starter was Josey Jewell, a consensus All-American with 435 career tackles and six interceptions. Welch, a junior, has nine career tackles and one interception.
"I'm not trying to be Josey," Welch said. "My mentality is going day-to-day, trying to improve on things I can control, whether it is schematically or a technique."
At 6-foot-3, 238 pounds, Welch is slightly bigger than Jewell (6-2, 232). In a bit of dyslexic irony, Welch wears No. 34, Jewell was 43.
"Josey was a good leader; he had a presence and you listened to what he had to say," Welch said. "If I asked him a question, he would say, this is what we're doing and this is why we're doing it. That understanding I gained through him gave me confidence as a younger guy and I tried to take advantage of that."
Everyone on Iowa's roster has heard of position flexibility; Welch has lived it. He arrived in camp in 2016 as a weakside linebacker, then moved outside, and now he is in the middle.
"It helps to get to know the structure of our entire defense, mentally," Welch said. "I have been able to get a taste of all three (linebacker) positions."
There is another interesting twist to the recruitment of Welch. His first offer was from North Dakota State and its offensive coordinator/running backs coach, Tim Polasek. Polasek, who, like Welch, is from Iola, Wisconsin, is now Iowa's offensive line coach.
Although Welch said he was lightly recruited, several Big Ten schools contacted him. Welch attended camp in Iowa City and worked with former linebackers coach Jim Reid. The Hawkeyes offered a scholarship shortly after.
"It is what you work for," Welch said. "I would have a (high school) basketball game on Thursday or Friday night and the next morning at 6, I would be lifting. Putting the time in got me where I am. My coaches in high school pushed me to be that way."
Aside from North Dakota State, Welch had offers from Bowling Green, Illinois State, North Dakota, South Dakota State, Southern Illinois, and Western Illinois.
"We have a long list of (student-athletes) on our team that were off the beaten path and overlooked," Wallace said. "Kristian was a IAA kid — I know that doesn't get much publicity around here when we go after a prospect with a IAA offer list, but he fit who we were. He has done well, has played well on special teams, and now is his opportunity where there is a blank canvas for him to start painting his own picture."
In Iowa's regular season finale at Nebraska on Nov. 24 — a 56-14 Hawkeye win — Welch made three tackles and returned an intercepted pass 33 yards. He had an assisted tackle on the final play of the game.
There are five months before Iowa opens the 2018 season against Northern Illinois on Sept. 1. Welch embraces an opportunity to improve, while he and his teammates get back into the football groove after five spring practices.
"If we get on the same page and improve, the coaches will put us in the right positions," Welch said. "Improving every day has been our focus."
After all, Phil Parker and Seth Wallace didn't drive 5 ½ hours on snowy, ice-covered roads for nothing.
Reminder that the football season ticket renewal deadline is March 30 (LINK). Visit hawkeyesports.com to sign up for new season tickets and be included in the seat selection process (LINK).