Hawk Talk Monthly — March 2018 | Sign Up For Season Tickets | Coach News Conferences | Player Interviews
By DARREN MILLER
hawkeyesports.com
IOWA CITY, Iowa — The race to maturity for the University of Iowa offensive line will enter its seventh practice Wednesday and assistant coach Tim Polasek said Hawkeye gains have been substantial.
 
Polasek and running backs coach Derrick Foster held news conferences Tuesday in the Stew and LeNore Hansen Football Performance Center. This is year two for Polasek as Iowa's offensive line coach; last season the Hawkeyes averaged 320.9 yards of offense per game — 191 through the air and 129.9 on the ground.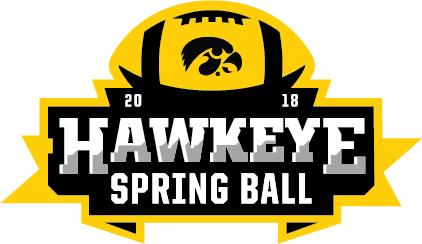 They did so despite losing starting right tackle Ike Boettger in the second game and starting left guard Boone Myers in the fifth game.
 
"At least it allowed the kids to know, 'Hey, your time could come quicker than you think,'" Polasek said. "I'm always preaching that, but to preach it and then to have it be reality are two separate things. The two young kids that played handled it."
 
The young kids are sophomore left tackle Alaric Jackson (6-7, 320) and sophomore right tackle Tristan Wirfs (6-5, 320).
 
Wirfs started the final eight games of the season — seven at right tackle and then left tackle in the New Era Pinstripe Bowl. He is the first true freshman to start at either offensive tackle position in the Kirk Ferentz era. Jackson, who started the first 12 games at left tackle, was named to the Big Ten Conference All-Freshman team by BTN.com and first-team freshman All-America by the Football Writers Association of America.
 
Senior Keegan Render (6-4, 307), who started the final eight games at left guard, is listed as the No. 1 center on the spring depth chart.
 
"The part Keegan has done a good job of is communication, being accountable for every defensive front identification, and starting the chain of command as far as our calls," Polasek said. "He owns that; he is our best vocal leader. Keegan is doing a wonderful job leading the group."
 
Polasek spent a large chunk of time praising Render's backup, sophomore Cole Banwart (6-4, 296). In fact, Banwart was the first Hawkeye mentioned when Polasek talked about "taking the pajamas off and stepping into their big boy pants."
 
"I'm excited about his future because he has continuously gotten better," Polasek said. "The only thing that has stopped his constant growth has been injuries. He has to be able to stay on the football field. But his grit and his toughness, he's a Hawkeye. His teammates matter to him, he's trying to do the things we're teaching the way we want them done. He is showing good growth."
 
Another youngster making strides is redshirt freshman Mark Kallenberger (6-6, 282), the only other true tackle at spring practice. Although he has worked solely at left and right tackle, Polasek wouldn't rule out a move inside if that meant getting the top linemen on the field at once.
 
"Who can provide depth? Who can get into the top six or seven?" Polasek said. "Mark's name comes up constantly, so we'll try to provide opportunities for him that are different than those tackle spots."
 
Junior Levi Paulsen (6-5, 305) started at right tackle during Iowa's bowl victory over Boston College, but he has not practiced this spring. Polasek is pleased with senior Ross Reynolds (6-4, 295), junior Landan Paulsen (6-5, 305), junior Jake Newborg (6-3, 290), and freshman Levi Duwa (6-3, 270).
 
"We're rocking along, trying to push the group forward, trying to establish unit chemistry and pride," Polasek said.