Hawk Talk Monthly — April 2018 | Sign Up For Season Tickets | VIDEO — GALC | GALC Photo Gallery
By DARREN MILLER
hawkeyesports.com
IOWA CITY, Iowa — Good things come to those who wait. For student-athletes at the University of Iowa, one of those good things is the new, dynamic Gerdin Athletic Learning Center (GALC) on Melrose Avenue.
 
An open house for the GALC was held Thursday afternoon.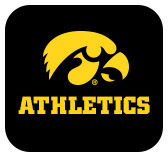 Upon entering, Hawkeye student-athletes are greeted by an inviting facility with 28,000 additional square footage than when it was shut down in July 2017. Tutoring and study space has doubled and the renovated Gerdin includes a Hawkeye Café refueling station.
 
"This project has been amazing," said Liz Tovar, associate athletics director for student-athlete academic services. "We wanted to have a space where our student-athletes would feel comfortable and a place where students wanted to come. I think we definitely accomplished that."
 
The Russell and Ann Gerdin Athletic Learning Center has served University of Iowa student-athletes since 2003. The entire third floor has been remodeled to include study space and meeting rooms.
 
"It's spectacular and it's going to be a great environment," said Marc Long, Iowa's head swimming and diving coach. "It's going to enhance the lives of our student-athletes."
 
Inviting, comfortable, welcoming. Visitors will be immediately met by natural light throughout the building's spacious floor plan. At least 50 new desktop computers (each with two monitors) have been installed in offices and conference rooms on all three floors.
 
"The technology needs of our students have changed since the building first opened," Tovar said. "That was another big part of the reason we needed to do this project."
 
For the 2017-18 academic year, the Jacobson Building that formerly housed football, was used as a makeshift learning center. Its proximity to Carver-Hawkeye Arena made it attractive, but Tovar said the Gerdin staff is excited to move back home.
 
"We're so fortunate to have our own building strictly for academic support services," Tovar said. "We have to remind ourselves that not everyone around the country has that, so that is what makes Iowa unique and makes us stand out above and beyond any other institution."
 
Hours of operation for the GALC will remain the same throughout the school year: Monday-Thursday from 8 a.m. to 10 p.m. (CT), Friday from 8-5, and Sunday from 6-10 p.m.