24 Hawkeyes to Watch 2017-18 | Hawk Talk Monthly — April 2018 | Sign Up For Season Tickets
Editor's Note: The following first appeared in the University of Iowa's Hawk Talk Daily, an e-newsletter that offers a daily look at the Iowa Hawkeyes, delivered free each morning to thousands of fans of the Hawkeyes worldwide. To receive daily news from the Iowa Hawkeyes, sign up HERE.
By RICK BROWN
hawkeyesports.com
IOWA CITY, Iowa — The University of Iowa football team's 55-24 upset of Ohio State last November included a little Kinnick Stadium trickery.
 
Holding a 31-17 lead in the third quarter, and with the Hawkeyes facing a fourth-and-3 situation from the Buckeyes' 20, Iowa head coach Kirk Ferentz signed off on a fake field goal that special teams coach LeVar Woods had designed weeks before.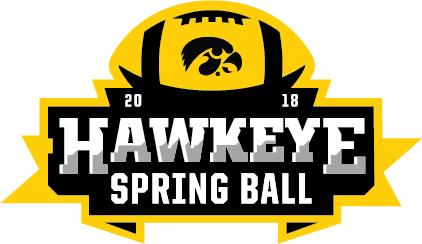 Punter Colten Rastetter completed a pass to long snapper Tyler Kluver for an 18-yard gain. The Hawkeyes scored on a 2-yard Nate Stanley to T.J. Hockenson pass on the next play.
 
"Every week I try to have something in my mind that I can bring to coach Ferentz and say, 'OK, if we need a play, this is it,'" Woods said Friday before Iowa's ninth practice of spring drills.
 
The true test comes when the play that Woods comes up with is tried out in practice. If it works, it stays in the playbook. If it doesn't, scratch it off the list.
 
The Rastetter-to-Kluver pass worked, and will go down in Iowa football history. Woods continues to look for sneaky-good plays, but his bigger challenge this spring is finding the right pieces to fill key roles on special teams.
 
Long snapper, punter, placekicker, and kick returner are all positions in flux, and Woods and the staff are using spring practice to identify a few good men. The job will carry over into the summer, when he watches tape of every spring practice, and into the fall, when members of the incoming class will get a look possibly finding a niche on special teams.
 
Kluver is gone, and likely headed to an NFL camp.  Four candidates are in competition to replace him as the long snapper — Jackson Subbert, Austin Spiewak, Marshall Coluzzi, and Nate Vejvoda.
 
"It's pretty much neck and neck," Woods said.
 
The position is lacking in experience.
 
"We have to figure out who's who and what's what," Woods said.
 
Rastetter and Ryan Gersonde both punted last season, and remain the two leading candidates heading into 2018. Rastetter averaged 37.8 yards on 55 punts. Gersonde averaged 42.5 yards on 13 punts.
 
"Both of them were inconsistent throughout the year," Woods said. "Both have a different skill set."
 
Rastetter went to more rugby-style kicks as the season went on. Gersonde is more of a traditional punter.
 
"Both those guys have the potential to do the job," Woods said.
 
Three players are competing for placekicking duties — incumbent Miguel Recinos is the likely pick, but Keith Duncan and Caleb Shudak are also in the picture. Recinos won the job last season, then made 11-of-13 field goals and went a perfect 44-fot-44 on PATs. He beat out Duncan, who held the job in 2016 as a true freshman.
 
Duncan made nine of 11 field goals, including the walk-off winner from 33 yards out in a 14-13 victory over Michigan, as well as 38-of-39 PATs. Shudak redshirted in 2016 and was injured last season.
 
"All three of those guys are making progress," Woods said.
 
There's a wildcard candidate among the potential kick returners.  Ihmir Smith-Marsette and Ivory Kelly-Martin got some experience returning kickoffs last season as true freshmen. A player unfamiliar to Hawkeye fans is Kyle Groeneweg, who attended the same high school, West Lyon of Inwood, as Woods. Groeneweg redshirted last season after transferring in from the University of Sioux Falls.
 
"I didn't know Kyle growing up," Woods said. "He's good friends with (safety) Brandon Snyder. I'd heard Kyle's name, but I didn't know much about him. He had two years left and he wanted to try and play at this level. I'm glad he's here right now."
 
In two seasons at Sioux Falls, the 5-foot 10-inch, 186-pound Groeneweg had 38 punt returns for 508 yards, and returned 50 kickoffs for a 25.6-yard average, including two touchdowns.
 
In addition to waiting for someone to emerge in the specialist positions, Woods is in search of other special teams players waiting to make a mark. He's looking for a leader. Someone like Kevin Ward, the heart of soul of special teams play last season as a senior, or Riley McCarron, who used special teams as a stepping stone to bigger and better things on the field in 2016.
 
"My point to guys is that maybe special teams can be a start," said Woods, who prolonged his seven-year NFL career with special-teams play. "It may also propel you into a different role on our team. That's been the message."