24 Hawkeyes to Watch 2016-17 | Hawk Talk Monthly — April 2018 | Fight For Iowa
IOWA CITY, Iowa — University of Iowa assistant soccer coach Rade Tanaskovic was inducted into the North Georgia Athletics Hall of Fame during a special luncheon April 7 at the Convocation Center on the Dahlonega Campus.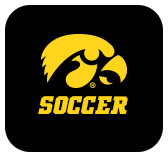 Tanaskovic was one of five inductees and the first for the Nighthawks' men's soccer program. 
 
"The committee has selected five decorated and distinguished individuals that we are proud to induct into our Hall of Fame," said UNG director of athletics Lindsay Reeves. "This class has set a high standard for our current Nighthawk student-athletes to follow."
 
Tanaskovic was a three-time PBC All-Conference selection as a goalkeeper, where he ranks seventh all-time in conference history with a 0.91 goals against average.  He also holds the school record for career saves with 248 in four seasons.
 
The Barzilovica, Serbia, native was named to the National Soccer Coaches Association of America All-Southeast Region team in 2009, following a season where he allowed 17 goals in 14 matches.  He led North Georgia to a 30-35-7 career record with three trips to the PBC Tournament.
 
"I am thankful for the opportunity to be inducted in to the University of North Georgia Athletics Hall of Fame," said Tanaskovic. "I can't say thank-you enough to all my teammates, coaches, trainers, administrators, friends, and family who have had helped me along the way.
 
"I will never be able to give back even close to what the University of North Georgia and people around the university have given to me. I am humbled and honored to be part of the 2018 UNG Hall of Fame class."
 
The 2018 season will be Tanaskovic's second as a member of the Iowa soccer coaching staff.  In his first season, the Hawkeyes won nine games and advanced to the Big Ten Tournament for the first time in three seasons. 
 
Under Tanaskovic's tutelage, goalkeeper Claire Graves posted seven shutouts — tied for the third-most in school history — and she was tabbed as the Big Ten Defensive Player of the Week after posting back-to-back shutouts against No. 23 Rutgers and Maryland.