Hawk Talk Monthly — April 2018 | I-Club Events Page | Sign Up For Season Tickets
By JAMES ALLAN
hawkeyesports.com
IOWA CITY, Iowa — When Kelton Copeland took over as the University of Iowa football team's wide receivers coach, he strived to raise the group's expectations. 
 
In a year, the Hawkeyes have made progress.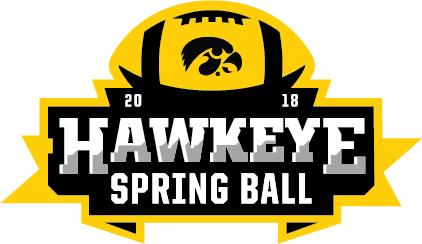 "We're building and moving the room forward one day at a time," said Copeland during a Tuesday news conference inside the Stew and LeNore Hansen Football Performance Center. "We've made strides this offseason, especially in spring ball, but have we arrived?
 
"Absolutely not, but are we getting closer?  Yes, I believe so.  We need to keep making strides and show improvement on a day-to-day basis."
 
Copeland says Iowa's receiving group has improved its speed to the point where it is a night and day difference from last March. 
 
"With certain individuals that came in as freshman and us moving the room forward, it is night-and-day when you put on film last spring to 2018 spring," said Copeland. "It's night-and-day as far as the group speed and individual speed.
 
"There are a couple of things you can't coach — speed and size.  If you have speed as a group, that makes you that much better."
 
Copeland spent much of Tuesday's news conference talking about the potential of sophomores Brandon Smith and Ihmir Smith-Marsette — players that look the part.
 
After seeing action in 10 games as a true freshman, Copeland says the time is now for Smith.  The Mississippi native made three receptions for 15 yards in 2017.
 
"He's one of the most explosive guys on the team, not just in the receiver position," said Copeland. "He has all the intangibles. We had a talk before spring ball where I told him, 'It's your time to shine, it's your job to win and earn.' He's taking it full steam ahead. 
 
"He has done things every day, something that stands out.  It's a catch where you're like, 'Wow.'"
 
Smith-Marsette had a productive freshman season, catching 18 balls for 187 yards and two touchdowns, including the game-winner in the 44-41 overtime victory at Iowa State. Copeland says Smith-Marsette has speed and football IQ to be special, but he needs to fall back on fundamentals.
 
"Ihmir has to learn to trust what we're coaching him, trust fundamentals, and trust what he has, which is speed, athleticism, and he's a bright young man," said Copeland. "He understands and loves football, but he has to trust what we're coaching him and trust the system. Once we put those together, we'll have something special."
 
Following the graduation of four-year starter Matt VandeBerg, Copeland says senior Nick Easley has stepped into a leadership position. Easley was Iowa's top pass-catcher last season, making 51 receptions for 530 yards and four touchdowns.
 
"Nick is about fundamentals," said Copeland. "He's a technician. He's not the fastest nor the biggest and there is nothing about Nick when you look at him that makes you say, 'Wow,' but he's a fundamental technician.  He does everything well, everything the way you coach and the way you want it.
 
"That, in itself, is a leader. He's a guy that holds himself to a standard and holds the rest of his teammates accountable."
 
The wild card among the wide receiver group is senior Kyle Groeneweg, a 5-foot-10, 186-pound transfer from the University of Sioux Falls.  The Inwood, Iowa, native sat out as a transfer in 2017 after making 36 receptions for 635 yards and six touchdowns in three collegiate seasons.
 
"Kyle is a dark horse for a guy that could really help us," said Copeland. "He could contribute in a lot of ways because of the skill set he brings.  He's mature with great intuition and from a mental aspect.  He's tuned into football and at the receiver's position."
 
The Hawkeyes will hold spring practice No. 10 on Wednesday morning.  The Iowa spring game is set for April 20 at 7 p.m. (CT) inside Kinnick Stadium.