Hawk Talk Monthly — April 2018 | I-Club Events Page | Sign Up For Season Tickets
Editor's Note: The following first appeared in the University of Iowa's Hawk Talk Daily, an e-newsletter that offers a daily look at the Iowa Hawkeyes, delivered free each morning to thousands of fans of the Hawkeyes worldwide. To receive daily news from the Iowa Hawkeyes, sign up HERE.
By DARREN MILLER
hawkeyesports.com
IOWA CITY, Iowa — The frame is there. So are sure hands. There is a lot to like about University of Iowa sophomore TJ Hockenson.
 
Catching footballs was Hockenson's thing during his record-setting career at Chariton (Iowa) High School. As a senior, the 6-foot-5 tight end hauled in 85 passes for 1,219 yards, and 17 touchdowns. That production accounted for nearly 40 percent of the Chargers' total offense.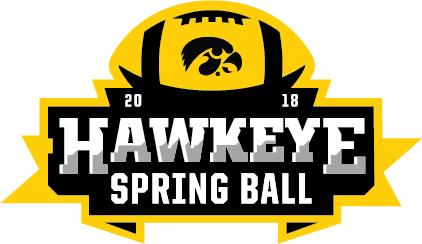 At the University of Iowa, tight ends typically catch, but they also block…a lot. Hockenson wasn't asked to do much of that in high school.
 
No worries, says LeVar Woods, who coached Iowa tight ends in 2017.
 
"The same fundamentals the offensive line uses and the same ones the receivers use, translate to the tight end and TJ picked it up quickly," Woods said. "He's a tremendous kid and he has a tremendous work ethic. He is more aggressive and physical than we thought or saw in high school, where he wasn't asked to do all those things."
 
Hockenson redshirted in 2016. As a Hawkeye freshman, he was on the receiving end of 24 passes from quarterback Nate Stanley for 320 yards and three touchdowns.
 
After nine spring practices, Hockenson continues to improve, specifically route running and blocking.
 
"All of it needs work obviously, it was my freshman year," Hockenson said of the 2017 season when Iowa went 8-5 and won the New Era Pinstripe Bowl. "I am trying to improve by seeing the defense better and what is in front of me."
 
Hockenson's first receptions as a collegian came against rival Iowa State. His first 10 receptions — spanning five games — went for a first down or touchdown. Of Hockenson's 24 receptions, 17 resulted in a first down and three for a touchdown.
 
"The whole offense is trying to get mis-matches and the tight ends as a group were a big part of mis-matches last year. Hopefully this year we will be again," Hockenson said. "We can block, we can route-run, we're doing all that, so we're trying to get the mis-matches. It's different game to game; we're doing what we can to win."
 
Hockenson was at his best on the biggest stage during his rookie season. When the Hawkeyes dismantled No. 3 Ohio State on Nov. 4 in Kinnick Stadium, Hockenson caught a season-high five balls for 71 yards and two scores. The three catches that didn't result in a touchdown moved the chains.
 
Hockenson started 12 of 13 games as a freshman, including the final 11. He was fifth on the team in receptions and second among tight ends. Junior Noah Fant had 30 receptions for a team-high 16.5 yards per catch and 11 touchdowns.
 
Talk about an explosive 1-2 punch.
 
"Noah is a great player, we all know that," Hockenson said. "He's fast and it creates open spaces for everyone. They make sure he doesn't go deep, so it lets you have open spaces up front. There are a lot of things Noah does that are remarkable. That is what you need in a player, especially at tight end."
 
Providing depth at tight end for the Hawkeyes are juniors Nate Vejvoda and Nate Wieting and sophomore Shaun Beyer. Wieting's lone catch was for 17 yards in the bowl game and was a sliver (and video review) from being a touchdown.
 
"As a group we have progressed a lot over these three weeks (of spring ball) and we're looking to continue that progression the last two weeks," Wieting said. "We're trying to push each other every day. That makes each one of us better. We all have to be ready to go."
 
The Hawkeyes return to the practice field Wednesday morning for their 10th spring practice. Iowa's final spring practice will be April 20 inside Kinnick Stadium, beginning at 7 p.m. (CT). It will be open to the public.
 
Returning University of Iowa students are encouraged to grab their 2018-19 football and men's basketball season tickets this spring to guarantee they have seats before the incoming class has an opportunity at the remaining inventory.  Current students can purchase their seats HERE.
Sign up as a new football season ticket holder to get the best available locations in the 2018 seat selection process.  Click HERE to add your name to the list. 
 
The Hawkeyes play their first four games at Kinnick Stadium, beginning with Northern Illinois on Sept. 1.