Hawk Talk Monthly — April 2018 | I-Club Events Page | Sign Up For Season Tickets | Saturday Practice Photos
Editor's Note: The following first appeared in the University of Iowa's Hawk Talk Daily, an e-newsletter that offers a daily look at the Iowa Hawkeyes, delivered free each morning to thousands of fans of the Hawkeyes worldwide. To receive daily news from the Iowa Hawkeyes, sign up HERE.
By DARREN MILLER
hawkeyesports.com
IOWA CITY, Iowa — Amani Jones hasn't known before any of the 12 spring football practices if he would line up at middle or weakside linebacker.
 
What is certain is that regardless of where the University of Iowa junior is on the field, you can expect him to "bring the boom," aka deliver a slobberknocker.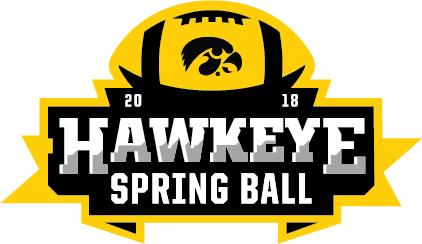 "I feel if I can pick an angle, I can hit somebody pretty hard," Jones said. "I feel I'm the hardest hitter on the team."
 
How are hard-hitting Hawkeyes determined?
 
"By the chances you get in practice," Jones said. "You bring the boom or you don't bring the boom."
 
The 6-foot, 238-pound Jones attended Chicago's Wendell Phillips Academy High School where he earned all-state honors as a junior and was named to the Sun Times All-Public League team as a senior. He also competed in track where he ran sprint relays and the open 400-meter dash.
 
Add speed to a guy who recently squatted 625 pounds and you have a human missile ready to unload on opponents.
 
"I have progressed from two years ago (when I arrived at Iowa)," Jones said. "I know there is still more to come."
 
For the sake of a starting point, Jones, a two-time letterwinner, is listed on the preseason depth chart as the backup at weakside linebacker behind senior Aaron Mends. Of all the returning Hawkeye linebackers, Jones was the top tackler in 2017 with nine. A majority of those came on special teams.
 
"I love kickoff," Jones said. "That's the start of the game, I'm the first one on the field, and I should be the first one making the tackle. If I get a chance to be on kickoff (in 2018), I'll still do what I do best: run down there and see ball, hit ball. If you have the ball and you're in my lane, I have to get the person with the ball. It comes natural to me."
 
Eight of the nine tackles made by Jones last season were on kickoff. Opponents averaged a miniscule 14.3 yards per those eight returns (12.6 if you throw out a 26-yarder by Boston College in the New Era Pinstripe Bowl).
 
"I hate touchbacks. When I feel (the returner) is about to take a knee (I think) don't do it, don't do it," Jones said. "Come on, you could have run it out and got tackled one time…or make something happen. I hate touchbacks."
 
The always smiling Jones is in the thick of a healthy linebacker competition. Three senior starters graduated, including consensus All-American Josey Jewell. That trio combined for 122 starts and 872 tackles. Aside from Jones and Mends, other returning linebacker letterwinners are seniors Jack Hockaday and Kristian Welch and sophomore Nick Niemann. Sophomores Barrington Wade and Kyle Taylor and redshirt freshmen Djimon Colbert and Nate Wieland are also in the mix.
 
"It's close because we're all coming together," Jones said. "We're not seeing someone step up like another Josey Jewell — we're not looking for that right now. We know we can't get that back so we have to come together collectively as a group and be prepared for anything."