Hawkeye Fan Shop — A Black & Gold Store | 24 Hawkeyes to Watch – 2017-18
Editor's Note: The following first appeared in the University of Iowa's Hawk Talk Daily, an e-newsletter that offers a daily look at the Iowa Hawkeyes, delivered free each morning to thousands of fans of the Hawkeyes worldwide. To receive daily news from the Iowa Hawkeyes, sign up HERE.
By SETH GOODMAN
hawkeyesports.com
IOWA CITY, Iowa — With just five collegiate tournaments under her belt, University of Iowa freshman golfer Rachel Fujitani has quickly made an impact in the Hawkeye lineup.
 
Fujitani, a native of Phoenix, Arizona, spent the fall adjusting to college on and off the course. Now, she has found her way into Iowa's lineup in each of the first five weeks of the spring season.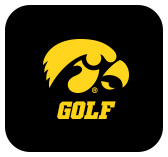 Fujitani made her Hawkeye debut at the Westbrook Spring Invitational where she posted a 54-hole score of 224 (+8). While the game remains the same, her workload has doubled at the collegiate level.
 
"It is a different competition, a lot higher," said Fujitani. "I think the biggest adjustment for me is having tournament days that are 36 holes instead of 18."
 
"There is a lot of transition time for freshmen and I think she had a little settling in to do in the fall," Iowa head coach Megan Menzel said. "She came back with a strong work ethic in the beginning of the winter and earned her way into the lineup."
 
Throughout spring, Fujitani has had ups and downs on the course, but having a roster full of upperclassmen teammates has been a positive driving force for the newcomer.
 
"The upperclassmen have been encouraging, especially when rounds don't go well for me. They've been motivating," Fujitani said. "When I do well, they acknowledge that and I think that's helpful."
 
Fujitani has also benefited from her strength and conditioning regime. Her improvement throughout the spring has been evident on her scorecard.
 
"Working out is a big factor that has changed my game, especially with the 36-hole days," Fujitani added. "I've been struggling with trusting myself, so throughout the season I have worked hard on trusting and believing in myself."
 
At the Arizona State Invitational, she carded career-bests for 18 holes (71), 36 holes (147), and 54 holes (221), and notched the top individual finish for the Hawkeyes (T-29th) — a career best.
 
"She drives the ball well, so she finds a lot of fairways, which is a benefit," said Menzel. "She is one of those players that has shown to be calm and composed under pressure."
 
Fujitani looks to close her freshman season on a high note.
 
"My goals for the remainder of the season are to keep trusting myself and working on my swing," said Fujitani. "Right now I am in a good place, so it's important to keep practicing and looking forward."
 
"I think she's feeling good about her game," added Menzel. "I think she will be able to go out and do a lot of good work for us by continuing to do what she has been doing."
 
Fujitani and the Hawkeyes will return to action April 20-22 at the Big Ten Championships in Cincinnati, Ohio.