24 Hawkeyes to Watch 2017-18 | Hawk Talk Monthly — April 2018 | I-Club Events Page | Sign Up For Season Tickets
Editor's Note: The following first appeared in the University of Iowa's Hawk Talk Daily, an e-newsletter that offers a daily look at the Iowa Hawkeyes, delivered free each morning to thousands of fans of the Hawkeyes worldwide. To receive daily news from the Iowa Hawkeyes, sign up HERE.
By RICK BROWN
hawkeyesports.com
IOWA CITY, Iowa — The last time we saw the University of Iowa's football team play a meaningful game, it took place on a baseball field turned skating rink.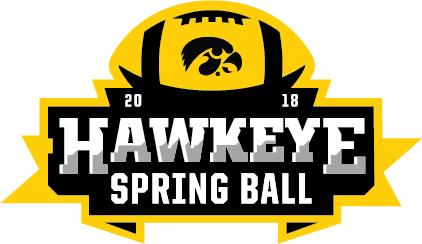 But some how, some way, Anthony Nelson found some traction and made a huge play.  The Hawkeyes and Boston College were deadlocked, 20-20, in the New Era Pinstripe Bowl, and less than five minutes remained in the game.
 
On a third-and-8 play from the 50, Nelson came racing around the left end and hit Boston College quarterback Darius Wade, forcing a fumble. The Hawkeyes' Parker Hesse recovered. A 27-yard Akrum Wadley run, a 17-yard completion from Nate Stanley to Nate Wieting and a 1-yard Drake Kulick run later, Iowa left Yankee Stadium with a 27-20 victory.
 
How did Nelson get traction on the icy field to make the play?
 
"Luck," Nelson said Friday after Iowa wrapped up spring drills with its 15th practice at Kinnick Stadium. "That play was mostly luck anyway. I was just lucky to get some pressure. Lucky to be there. Parker fell on it, making it a great play. I'm just glad it helped our team win."
 
Luck is the reside of hard work, though. And Nelson, a junior from Waukee, Iowa, had grown into a key piece of Iowa's defense.
 
"The first time we saw him, he was probably 200 or 205 pounds," Iowa head coach Kirk Ferentz said. "He has grown physically. More importantly, he has grown as a player."
 
Nelson, who now carries 271 pounds on his 6-foot, 7-inch frame, started every game in Iowa's 8-5 season a year ago. His growth continues. Ferentz sees budding leadership potential from Nelson, and loves the competition he provides Iowa's offensive line in practice. Especially sophomore tackles Alaric Jackson and Tristan Wirfs.
 
"It has been good for our young tackles to work against Anthony and Parker (Hesse)," Ferentz said. "Anthony does a nice job. He puts pressure on those tackles pretty good."
 
Nelson said his progress as a football player has been a slow, steady uphill climb.
 
"Just a bunch of small steps," Nelson said. "It is getting a little better every year, every season, every spring. It is understanding the game more, being more experienced, and getting stronger. Those are the things that have helped out."
Ferentz considers spring practice one of his favorite times of the season. It gives him a glimpse of his team's potential. It gives him a chance to see the potential of  younger players who haven't made it to the field yet.
 
Spring is also invaluable to a proven Big Ten performer like Nelson.
 
"Watching spring tape is really valuable," Nelson said. "You can spend the time detailing your techniques and just trying to improve yourself as a player. During the season, you're focused on the opponent and yourself. You're splitting time. In the spring you can focus on yourself and improving."
 
Iowa opens the 2018 season against Northern Illinois at Kinnick Stadium. Nelson won't speculate on how good the Hawkeyes' defense could be.
 
"In the spring we're going against our offense," Nelson said. "It's an opponent we know pretty good. We're going to have to find out (how good they can be) when it comes to fall camp. Then we're going to have to show it on the field."