Hawk Talk Monthly — April 2018 | I-Club Events Page | Sign Up For Season Tickets
By DARREN MILLER
hawkeyesports.com
IOWA CITY, Iowa — Tom Knight, the most recent University of Iowa defensive back to be selected in the first round of an NFL Draft, has advice for Josh Jackson:
 
Don't put your mother in charge of draft day party invitations.
 
"I told my mother (Sharon) I didn't want a big hub bub," said Knight, who grew up in Marlton, New Jersey. "If you let your mother take over the invites, you go from 20 people to 200 people in your house. That's what my house ended up looking like, so I went up to my bedroom, closed the door, had my house phone sitting there, and waited for my phone call."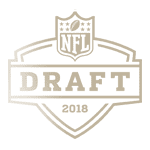 That was 21 years ago. Since Knight was taken with the ninth pick by the Arizona Cardinals in 1997, 15 Hawkeye defensive backs have been drafted, the highest being Bob Sanders in the second round by Indianapolis in 2004. Last season, Desmond King went in the fifth round to the Los Angeles Chargers.
 
"It was culmination of all your hard work," Knight said, recalling his draft day emotions. "We all have aspirations of continuing to play football. When I'm hearing I'm one of the top two or three guys in the country at my position and there is a chance I get drafted high, all it does is prove that all these things I have been doing are correct, let's keep moving, working hard, and go to the next level. It was a fun day."
 
The 6-foot, 200-pound Knight played eight seasons in the NFL — five with Arizona, two with Baltimore, and one with St. Louis. He intercepted three passes.
 
From 1992-96 at Iowa, Knight played 39 games and intercepted 10 passes, returning three for touchdowns. In the third game of the 1993 season, Knight tore a posterior cruciate ligament and received a medical redshirt. During his final two seasons, the Hawkeyes went 17-7 and won the Sun and Alamo bowls.
 
"All my years of playing, even in the pros, my time at Iowa was the best time I have ever had," Knight said. "Playing a sport, being on campus, being around good people. Iowa City tops the board."
 
Knight nearly missed out on a football career. His mother, Sharon, leery of injuries and the sport's tough nature, tried to convince her son to continue playing soccer. But through the recruiting of Frank Verducci, Sharon fell in love with Iowa and the Hawkeyes.
 
"She never stopped talking about Iowa," Knight said of his mother, who passed away nearly three years ago from breast cancer. "It's the people, they make you feel so welcome. The fan base, no matter where you go, you know you will be welcomed. I don't care where I travel, I always see Iowa someplace, somehow: license plate brackets, T-shirts, hats.  Somehow a conversation gets started.
 
"I could never imagine playing football any place but Iowa City. I think the world of Hayden Fry; he came in my house and was a man of his word. Everything he told me Iowa would be was that and then some."
 
Knight and his wife, Tracy (Shale), met as freshmen at Iowa, where Tracy was a member of the University of Iowa dance team. They reside in Gilbert, Arizona, with a daughter, Taylor (19) and a son, T.J. (14).
 
After retiring from the NFL following the 2004 season, Knight volunteered on coaching staffs at the University of Arizona (assisting Mike and Mark Stoops) and at Wisconsin (assisting Bret Bielema). He currently works for Vyaire Medical, a company that manufactures and markets products for the diagnosis, treatment, and monitoring of respiratory conditions.
 
This is how Knight knew it was time to return to work after football: An assignment for T.J., who was in preschool at the time, was to explain what his mother and father did for occupations.
 
"He said, 'My mommy makes my lunch and drives me to school and picks me up," said Knight, quoting T.J. "My dad plays X-box and goes to the gym.' If that's what he sees me do, it's time to get to work."
 
Knight said the money he made from playing professional football has been set aside for use when he and Tracy "get old, retire, and spend time with the grandkids."
 
Still, Knight had to remain active. He grew up watching his father, Tom, work construction every day for the company he owned.
 
"I was never a homebody," Knight said. "I never knew what it was like to be home."
 
And there is significance and a similarity between coaching and the medical industry.
 
"In both, you can always help people," Knight said. "When I am working, I am helping somebody and that is most important to me."
 
Knight refers to Jackson as a legitimate first-rounder because of his height, ball skills, and the way he plays the game. If there is difficulty in the transition from college to being a professional, Knight said it will be getting through the rookie season.
 
"Hopefully he gets with a good team that puts him in the right system to capitalize on his strengths," Knight said. "There is a heck of a learning curve, but the physical challenge that lies ahead is going to be the biggest thing."
 
If Knight was making the decision at Thursday's NFL Draft at AT&T Stadium in Arlington, Texas, he would quickly and confidently scribble Jackson's name on a card for NFL commissioner Roger Goodell to read.
 
"Knowing he is from Iowa, I would want him any day of the week," Knight said. "(Iowa head coach) Kirk Ferentz turns out well-coached, consistent guys. All (Iowa defensive coordinator) Phil Parker's guys are going to be sound fundamentally. There is never a question about drafting an Iowa guy; you hear (NFL analyst) Bill Polian say it all the time — you know what you're getting."
 
The NFL Draft runs from April 26-28 at AT&T Stadium, home of the Dallas Cowboys. It will be the 83rd annual meeting of NFL franchises to select newly eligible players.