Hawk Talk Monthly — April 2018 | I-Club Events Page | Sign Up For Season Tickets
Editor's Note: The following first appeared in the University of Iowa's Hawk Talk Daily, an e-newsletter that offers a daily look at the Iowa Hawkeyes, delivered free each morning to thousands of fans of the Hawkeyes worldwide. To receive daily news from the Iowa Hawkeyes, sign up HERE.
By RICK BROWN
hawkeyesports.com
IOWA CITY, Iowa — A new generation of football recruits arrived at the University of Iowa's Stew and LeNore Hansen Performance Center early Friday evening, dreaming to be like the 6-foot, 4-inch, 295-pound guy who worked his way through the crowd and headed out the door.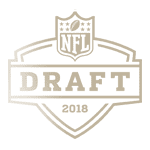 Three short years ago, James Daniels competed in his first spring game at Kinnick Stadium as a 17-year-old. Now he'll be the next recruiting sales pitch for a program that continues to produce NFL offensive linemen at an impressive rate.
 
"I was always looking up to Marshal Yanda and Brandon Scherff," Daniels said of two former Hawkeyes who are now elite NFL linemen. "For the next group of recruits, they can use me. That's going to be pretty neat."
 
Daniels is one of nine underclassmen to enter the NFL Draft under Iowa head coach Kirk Ferentz. Heading into Thursday's draft, the center from Warren, Ohio, is projected to be a first-round selection by many observers. Like the recruits who came to town Friday, Daniels was a dreamer. Now he's about to see his dream come true at the next level.
 
"As a kid, I always watched the draft," Daniels said. "I always dreamed of walking across the stage."
 
Daniels could become the fifth offensive lineman of the Ferentz era to get drafted in the first round, joining Scherff (2015), Riley Reiff (2012), Bryan Bulaga (2010) and Robert Gallery (2004).
 
That doesn't include the three first-round picks Ferentz groomed as the offensive line coach under Hayden Fry — Ron Hallstrom (1982), John Alt (1984) and Mike Haight (1986).
 
"James has physical attributes that most guys don't have," Ferentz said. "There is genetics and all that. But beyond that, he's just an intelligent young guy. He's got a good way about him, a good demeanor. It's a credit to mom and dad. He's a neat kid."
 
James is the second son of LeShun and Alicia Daniels to play at Iowa. LeShun Daniels, Jr., was a running back who rushed for 1,058 yards as a senior in 2017. LeShun, Sr., played for Ohio State and the Minnesota Vikings. LeShun, Jr., had a handful of carries for the Washington Redskins last season. James will watch Thursday's draft with his family in Warren, Ohio.
 
 "I need to take everything I learned here and have it translate to the NFL," James said. "That means being tough, smart, and physical. So when other players in the NFL see me they'll realize, 'He's tough, smart, and physical, because everybody from Iowa is like that.' So I need to be playing at a certain standard because I'm from Iowa."
 
Daniels visited eight NFL teams in the weeks leading up to the draft — the Denver Broncos, Dallas Cowboys, Chicago Bears, Carolina Panthers, Philadelphia Eagles, San Francisco 49ers, and Cincinnati Bengals. The Atlanta Falcons came to Iowa City to meet with him.
 
That's a lot of attention for a four-star recruit out of Warren G. Harding High School who got a humbling introduction to college football when he enrolled at mid-semester and took part in spring drills in 2015.
 
"I was the third-team center," Daniels said. "I was going against defensive tackles who were at the bottom of the depth chart and I couldn't block them. It didn't take me long to realize those stars don't mean anything."
 
Daniels, who was coached on the offensive line by Brian Ferentz and Tim Polasek at Iowa, went on to play in all 14 games as a freshman, starting twice. He missed three games to injury over the next two seasons, but started the rest. A week after Iowa finished the 2017 season with a victory over Boston College in the New Era Pinstripe Bowl, Daniels announced he was taking a shot at the NFL.
 
The NFL Draft Advisory Board projected him to be a second-round selection based on tape of the three games they watched. Ferentz also consulted with NFL coaches and scouts, who projected Daniels as a first or second-round pick.
 
When he announced his decision on Instagram Jan. 5, Daniels thanked Ferentz for "taking a 17-year-old kid and shaping me into the man I've become," and said that coming to Iowa had been the best decision of his life.
 
"I realize now, from talking to a lot of NFL scouts and coaches, that they respect Iowa's football program so much," Daniels said.
 
He also appreciated the fact that Ferentz unselfishly encouraged him to take the next step in his career.
 
"Coach Ferentz cares about what I do on the football field," Daniels said. "But he cares about what I do off the field, too. He wants to make sure I'm making the best decision for myself. When I told him I was leaving, he said to make sure I finish my degree. He cares about me as a person, more than he cares about me as a football player."
 
Daniels didn't have a favorite NFL team growing up. Cincinnati wide receiver Chad Ochocinco was his favorite player. Now, the NFL player he tries to emulate is Jason Kelsey of the Philadelphia Eagles, as well as his Iowa brethren.
 
Last week, Rivals.com came out with a story ranking the best schools at producing NFL talent, by position. When it came to offensive linemen, Iowa was ranked No. 1.
 
"Every day in practice, the drills that we do and how hard we work translates to games," Daniels said. "If it translates to games, it translates to the NFL. I saw that article. I wasn't surprised."
 
Daniels is about to polish Iowa's reputation even more. He knows that football is about to become a business.
 
"Hearing all the positive talk about me is pretty cool," Daniels said. "But I realize that talking won't help me get drafted, or help me block people once I'm on an NFL team."
 
The NFL Draft runs from April 26-28 at AT&T Stadium, home of the Dallas Cowboys. It will be the 83rd annual meeting of NFL franchises to select newly eligible players.