Hawk Talk Monthly — April 2018 | I-Club Events Page | Sign Up For Season Tickets | Photo Gallery | Video
By DARREN MILLER
hawkeyesports.com
ARLINGTON, Texas — There are 13 football-playing Division I universities in the state of Texas. Five years ago, one by one, coaches visited Lake Dallas High School in Corinth, Texas, and said no thanks to an athletic, but injured, receiver/defensive back named Josh Jackson.
 
"It motivated me and put a chip on my shoulder," Jackson said. "I still have that chip on my shoulder."
 
Jackson returned to the Dallas area this week for football-related business. The NFL Draft is being held at AT&T Stadium in Arlington, less than a 50 minute drive up the President George Bush Turnpike from his four bedroom, 2,100-square foot home on 3004 Berkshire Lane in Corinth.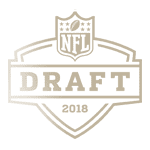 On Thursday evening, the 6-foot, 1-inch, 195-pound Jackson, a consensus All-American from the University of Iowa, is expected to be a first-round selection.
 
"To have the stars align and have the draft here is perfect for me," Jackson said.
 
In the first four games of his senior season of high school, Jackson caught 24 passes for 475 yards and nine touchdowns. In the fifth game against Byron Nelson High School, he fractured an ankle. Iowa was one of the few schools that remained in contact.
 
"I was overlooked," Jackson said. "Physically, I have always been there. The main thing was finding a system where I fit well and I did that at Iowa. Everything happens for a reason. I'm glad (the Texas universities) overlooked me because I probably wouldn't be where I am today."
 
Jackson turned in a season for the ages in 2017 and it opened in the first game with his first career interception against possible No. 1 overall pick Josh Allen of Wyoming. Seven more interceptions followed, many worthy of a continuous loop on the highlight reel. He also made 48 tackles and had 18 pass breakups.
 
"I'm a playmaker and I set big goals for myself," Jackson said. "I knew I had to get on the field; you can't change the game from the stands, so you have to get on the field and play. I had to wait my turn and while I did, I made the most of it. I learned from the older guys and when it was my turn, I was prepared."
 
The Hawkeyes won their first three games in 2017, including a 31-14 decision over North Texas, a university located 10 minutes from Jackson's house in Corinth. Iowa went on to compile eight victories and a 27-20 win over Boston College in the New Era Pinstripe Bowl.
 
Jackson said his confidence actually kicked into high gear during a most unlikely lopsided loss to Florida in the 2017 Outback Bowl. Jackson made his first career start that day and recorded three solo tackles, one for a loss of yardage.
 
"It got me antsy and I wanted to stay on the field," Jackson said. "Once you get a taste of it, you can't get enough. The main goal after that was to stay on the field as long as I could."
 
Jackson spent most of Wednesday morning with 21 other NFL Draft prospects in or near the game-day home of the Dallas Cowboys. Jackson and Louisville quarterback Lamar Jackson kicked off the morning serving as tutors for area students during a quiz bowl-type game called Character Playbook. The Jacksons successfully assisted with an answer to the question: "Give two examples of intervention techniques." But a panel of judges gave them a thumbs-down for their response to "Give two examples how to use social media in a positive way."
 
"The main thing is to smile with these kids," Jackson said. "All of them want to have fun, they're young, and it's cool to have such a platform where you can make an impact. We want to make sure we're out here having a good time with them."
 
That carried over to a practice field outside the stadium, where Jackson threw pass after pass to kids during a Play Football clinic.
 
On Thursday, Jackson will return to AT&T Stadium for the actual NFL Draft. It's time. As former Iowa head coach — and Texas native — Hayden Fry was fond of saying, the hay is in the barn.
 
"I feel at home, I'm comfortable, and excited," Jackson said. "I'm ready to get it over with. I want to figure out what team I'm going to and I want to start playing football."
 
Ironically, Jackson has never attended an NFL game. As a student, he once toured Texas Stadium in Irving, but that was on a field trip. He will soon have many up-close views from a perspective much different than that of a ticket-holding spectator.
 
Jackson isn't hesitant about what lies ahead. He calls himself a competitor who loves to tangle with the best.
 
"I'm a big believer in hard work and you get what you work for," Jackson said. "That is my mentality and that's what I plan to keep doing."
 
It appears that Jackson's days of being overlooked are a thing of the past.