Hawk Talk Monthly — May 2018 | 24 Hawkeyes to Watch 2017-18 | I-Club Events Page | Photo Gallery | Sign Up For Season Tickets
Editor's Note: The following first appeared in the University of Iowa's Hawk Talk Daily, an e-newsletter that offers a daily look at the Iowa Hawkeyes, delivered free each morning to thousands of fans of the Hawkeyes worldwide. To receive daily news from the Iowa Hawkeyes, sign up HERE.
By RICK BROWN
hawkeyesports.com
JOHNSTON, Iowa — University of Iowa head football coach Kirk Ferentz stood in front of 200 campers on the field at Johnston Middle School on Saturday and fielded questions. The innocence of youth came front and center.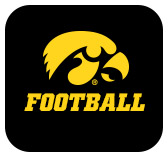 "How many Super Bowls have you been to?" Ferentz was asked.
 
"We're not eligible," he said.
 
Another asked how many times he had beaten Ohio State.
 
"Probably not enough," he said "But we got one last year."
 
What kind of offensive linemen do you like?
 
"Guys that can block," he said.
 
Ross Reynolds's ears perked up at that question.
 
"I was surprised," Reynolds said. "An offensive line question."
 
Reynolds, a senior offensive lineman from Waukee, Iowa, was one of 16 Hawkeye football student-athletes taking part in the day youth camp.
 
Joe Nelson, athletic and activities director for the Johnston Community School District, said the camp's 400 spots for youngsters in grades second through eighth filled up in six hours. The camp was divided into two sessions of 200.
 
"I'm glad I could be part of it," Hawkeye senior safety Jake Gervase said. "It reminds me of when I got to do this as a kid, getting a chance to go through drills with older kids."
 
The camp was this season's senior project, though underclassmen like defensive back Michael Ojemudia and running back Ivory Kelly-Martin, participated.
 
"I'm from Michigan, and I used to look up to Michigan players and I was amazed by them,"Ojemudia said. "It's a blessing to be able to come out here and talk to kids who look up to us."
 
Senior defensive end Matt Nelson said rubbing elbows with bright-eyed youngsters made Saturday's round-trip bus ride to Johnston and back worth it.
 
"They have so much energy," Nelson said. "It's nice to give back to someone who looks up to you so much."
 
Nelson manned a tackling dummy and witnessed some interesting techniques.
 
"You've got to keep them contained, but you can't confine them too much," Nelson said. "You've got to let them play."
 
Several Hawkeyes on hand Saturday served as examples of those who dreamed of playing football for Iowa and beat the odds to do it. Iowa kids like Gervase, Miguel Recinios, Sam Brincks, and Nick Easley, who came as walk-ons and worked their way onto the field.
 
"I want kids who may be in a similar position, where people tell them they can't do what they want to do, not to take no for an answer," said Easley, a senior wide receiver. "If you want to accomplish your dream, you've got to go for it."
 
Easley, from Newton, Iowa, came to the University of Iowa after two seasons at Iowa Western Community College and led the Hawkeyes with 51 receptions in 2017. Recinos, a walk-on from Mason City, Iowa, made 11 of 13 field goal attempts and all 44 PATs last season. Gervase started 10 games at free safety. Brinks got significant snaps at defensive end. On Saturday, they were giving back to the next generation of dreamers.
 
"We were all a little kid at some point," said Brincks, a senior. "We were looking up to guys like Iowa football players. It was a big deal. We have to give back to the community a little bit because they're always at our games."
 
Ferentz touched on the subject of giving back, too.
 
"It's a nice way to say hello and thank you to people in this part of the state," Ferentz said. "We have people traveling for five or six hours to come to Kinnick seven times a year. It's a little payback."
 
Before sending campers on their way, Ferentz asked each of them to do three things: get outside every day and do something away from television and video games, read, and be nice to their siblings and parents.
 
Entering his 20th season as Iowa's head coach, Ferentz also appreciated the value of Saturday's experience for participating members of his team.
 
"It's a community service initiative for our players, a senior project," Ferentz said. "And then it's a chance to work with youth. It's always fun for our guys, too."