Hawk Talk Monthly — May 2018 | Sign Up For Season Tickets | I-Club Events Page
IOWA CITY, Iowa — The Iowa City/Coralville Area Convention & Visitors Bureau, City of Coralville, and UI Athletics are pleased to announce plans for the 2018 FRYfest presented by MidWestOne Bank. As a "Celebration of all that is Hawkeye", FRYfest will celebrate the 10th edition on FRYday, August 31.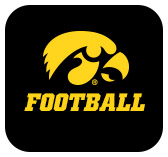 "FRYfest began in 2009 as a way to gather Hawkeye fans before the first game to get them primed for the season," said Josh Schamberger, President of the Iowa City/Coralville Area Convention & Visitors Bureau (CVB) and event originator. "Honoring Coach Hayden Fry's legacy was the best way to do that then and it's still the best way to do it today." 
FRYfest X will take place the day before the Hawkeyes take on the Northern Illinois Huskies in historic Kinnick Stadium for the first game of the year.  Programming at FRYfest X will include a panel of coaches from the renowned 1983 staff and an ode to the 100th birthday of Nile Kinnick. As always, it will be a full day of activities, including the vendors in the World's Largest Hawkeye Tradeshow, a panel discussion and autograph session with the 2018 Athletic Hall of Fame class, the Hawkeye pep rally, and the "High Porch Block Party" which includes the kids zone, bags tournament, concert and a grand finale with fireworks.  
To keep things interesting, FRYfest has found unique ways to bring in crowds over the past 10 years. "Throught the years we have renamed 1st Avenue as Hayden Fry Way, set Guinness Book of World Records for the most people dancing the Hokey Pokey and for the longest recorded game of Bags, and unveiled Coralville's statue of Coach Fry," added Schamberger. "No two years are alike and year 10 promises to keep bring a new experience for everyone." 
Concert tickets go on sale June 1 for the concert headlined by the Pork Tornadoes with the opener, Pianopalooza. "The Pork Tornadoes had a terrific response as our opening band last year and they've continued to grow a great following. They are a fun cover band that plays a wide variety of favorites," said Monica Nieves, Director of Special Events for the Iowa City/Coralville CVB. Concert tickets are just $5 and benefit Coralville's 4th Fest celebration. There is no cost for admission to the rest of FRYfest. 
All events take place in and around the Coralville Marriott Hotel & Conference Center, in Coralville's Iowa River Landing. FRYfest is presented by MidWestOne Bank. The 1983 Coaches Panel is supported by the Iowa Soybean Association. 
For everything FRYfest follow www.facebook.com/fryfest, Twitter @FRYfest and www.FRYfest.com