Hawk Talk Monthly — May 2018 | 24 Hawkeyes to Watch – 2017-18 | I-Club Events Page | VIDEO — FRYfest news conference | Sign Up For Season Tickets
Editor's Note: The following first appeared in the University of Iowa's Hawk Talk Daily, an e-newsletter that offers a daily look at the Iowa Hawkeyes, delivered free each morning to thousands of fans of the Hawkeyes worldwide. To receive daily news from the Iowa Hawkeyes, sign up HERE.
By DARREN MILLER
hawkeyesports.com
IOWA CITY, Iowa — The University of North Texas went 9-2 in football in the fall of 1978 with a win over Oklahoma State and close losses to Mississippi State and No. 12 Texas. Still, the Mean Green were not invited to a postseason bowl.
 
Head coach Hayden Fry knew it was time to move on.
 
"We had another good season at North Texas and coach Fry had options," said Don Patterson, defensive secondary coach at North Texas in 1978. "He said we have to leave North Texas. We go 9-2 and can't make it to a bowl game? Give me a break."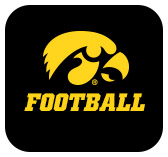 Fry had three head coaching offers that offseason: Ole Miss, Oklahoma State (who North Texas defeated 12-7 on Sept. 30, 1978, in Irving, Texas), and Iowa.
 
"It all started with Iowa's fan base," Patterson said.
 
The Hawkeyes finished 2-9 in 1978, but packed an average of more than 53,000 fans into Kinnick Stadium for six home games.
 
"We knew we would have great fan support," Patterson said.
 
Defensive coordinator Bill Brashier provided the mic drop moment when he addressed the North Texas coaches huddled around a conference table in Denton, Texas.
 
"I know this," Brashier said. "If you win at Iowa, you only go to the best bowl game of all (Rose Bowl). I'm voting for Iowa."
 
Thus began a 20-year high porch picnic between Fry and Hawkeye nation. Thirty-five years ago, in his fifth season as head coach at Iowa, Fry assembled one of the greatest coaching staffs in college football history.
 
Brashier was assistant head coach and defensive coordinator, Bill Snyder was offensive coordinator, Barry Alvarez coached linebackers, Bill Dervrich was strength and conditioning coach, Kirk Ferentz coached offensive line, Carl Jackson coached running backs, Dan McCarney was in charge of the defensive line, Del Miller coached receivers, Patterson coached tight ends, and Bernie Wyatt worked with defensive ends. The graduate assistant was Bob Stoops, a four-year starter and All-Big Ten defensive back for the Hawkeyes.
 
"(Coach Fry) had an uncanny ability to assess coaching talent," Patterson said. "To assess is one thing, you still have to motivate it to get things done. Coach Fry always talked about never letting a day pass without laughing. You have find a way to make football fun and it's hard to make it fun because it is a lot of hard work and there is a lot of physicality that goes with it."
 
FRYfest X will take place Aug. 31, the day before the Hawkeyes' season opener against Northern Illinois. Programming at FRYfest X will include a panel of coaches from the 1983 coaching staff; all but Snyder, who will coach Kansas State against South Dakota that weekend, are expected to attend some or all of the functions.
 
Iowa won its first three games in 1983 over Iowa State, Penn State, and Ohio State, and went on to finish 9-3 overall, 7-2 in the Big Ten Conference. After concluding the regular season with wins over Indiana, Wisconsin, Michigan State, and Minnesota, the Hawkeyes were defeated by Florida, 14-6, on a frigid, 34-degree evening in the Gator Bowl.
 
"We had one of the best offensive teams in Iowa history (270 yards per game passing, 201 rushing)," Patterson said. "As the year was playing out, it looked like we were going to be in line for the Fiesta Bowl. Well, Ohio has a lot more TVs than Iowa, they took Ohio State.
 
"Then it looked like we would be in line for the Cotton Bowl. What we didn't realize at the time is the University of Texas was playing in the Cotton Bowl and they got to pick their opponent. (Texas head coach) Fred Akers said no, it's not going to be Iowa, and he chose Georgia."
 
Ohio State defeated Pittsburgh, 28-23, in the Fiesta Bowl and Georgia defeated Texas, 10-9, in the Cotton Bowl.
 
Seven of Iowa's assistant coaches that season went on to become collegiate head coaches: Alvarez (Wisconsin), Ferentz (Maine, Iowa), McCarney (Iowa State, North Texas), Miller (Southwest Missouri State), Patterson (Western Illinois), Snyder (Kansas State), and Stoops (Oklahoma).
 
"Coach Fry would say, 'If I had one particular skill, it was probably my ability to judge who to hire,'" Patterson said. "He always famously said 'I won't hire coaches who don't have an interest in becoming head coaches.'"
 
In 20 seasons with Fry as head coach (1979-98), the Hawkeyes won 143 games, participated in 14 bowl games, and won three Big Ten Championships. Fry was inducted into the College Football Hall of Fame in 2003, Alvarez in 2010, and Snyder in 2015.
 
For more information on FRYfest, click HERE.