Hawk Talk Monthly — May 2018 | Hawkeye Fan Shop — A Black & Gold Store | 24 Hawkeyes to Watch – 2017-18
Editor's Note: The following first appeared in the University of Iowa's Hawk Talk Daily, an e-newsletter that offers a daily look at the Iowa Hawkeyes, delivered free each morning to thousands of fans of the Hawkeyes worldwide. To receive daily news from the Iowa Hawkeyes, sign up HERE.
By BREANNA KELLOGG
hawkeyesports.com
IOWA CITY, Iowa — For the University of Iowa men's gymnastics team, the 2017-18 season was a roller coaster.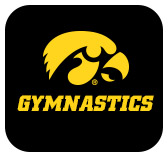 From upsetting two top-ranked teams at home to a disappointing finish at the Big Ten Championships, the season was full of learning experiences.
 
"We had two amazing home meets where we beat high-ranked teams who (reached finals) at the NCAA Championships," said Iowa head coach JD Reive. "We showed what we're capable of this season. Winning is contagious. It's something that's hard to do consistently, but when you do it, it sets something off. It sparks a different thought process in the training environment that trickled down from upperclassmen through to freshmen. It was an important lesson.
 
"We are that good. We can compete with the best teams in the country. We can do that consistently if we believe it every day when we are in the gym practicing."
 
Consistency was key for two gymnasts, senior Dylan Ellsworth and freshman Bennet Huang. Ellsworth was named the Big Ten Gymnast of the Week on March 12, the first honor for the Hawkeyes since Matt Loochtan garnered the award in 2016. That same week he was also named the NCAA Gymnast of the Week.
 
"Dylan Ellsworth stood out this season," said Reive. "He has been all over the map in past seasons and he was good this year. As a whole, he was consistent and he put a lot of gymnastics out there for us every weekend. That was important."
 
Huang's consistency allowed him to snap an eight-year drought. On March 5, he notched the first Big Ten Freshman of the Year honor since Matt McGrath in 2010. He would earn his second honor is as many weeks on March 12.
 
"Bennet, as a freshman, had quite a bit of impact," said Reive. "He's just scratching the surface. He will continue to get significantly better."
 
While Ellsworth and Huang had significant impacts on the team, every gymnast contributed something to make this particular group unique.
 
"It was a good group of young men," said Reive. "They were tight. They worked well together. They disagreed, and they fought about things, but they worked through it. They were a team. That's the first time that I feel like, as an entire group, everybody helped everyone."
 
With 12 letterwinners returning next season, the Hawkeyes are utilizing their experiences as motivation for the years to come.
 
"The freshmen learned things in one year that it took the seniors two years to learn. That transfer of knowledge is important to what we do. I want them to learn and I felt like I watched that happen over the course of this season, which is why the shortcomings with their competitive success were so much more frustrating for them. As a coach, that's what you want. You want them to figure out why they didn't accomplish their goals and how they can fix it. That's a huge shift for any team that wants to win.
 
"We really want to win."