24 Hawkeyes to Watch – 2017-18 | Hawk Talk Monthly — May 2018 | I-Club Events Page | Apple App | Sign Up For Season Tickets | Android App
Editor's Note: The University of Iowa Athletics Department, in conjunction with Coca-Cola, will produce exclusive video highlights of the top 10 Iowa football games over the past 20 seasons, as voted on by Hawkeye fans. Hawkeye fans will vote each week between two game options, with the winning game each week advancing as a top 10 moment. Beginning Aug. 13, the weekly countdown of the Top 10 games will begin, with Coca-Cola releasing 16 ounce cans across the Hawkeye State.  Fans will be able to view video highlights of each moment by scanning the Tigerhawk on the cans with the Hawkeye Sports App, via the new augmented reality feature coming to the Hawkeye Sports App later this summer. The release of the greatest moment of the past 20 years is scheduled for Monday, Oct. 8.
Fans can download the Hawkeye Sports App, free of charge, in the Apple App or Google Play stores.
 
Questions concerning the purchase of 2018 football tickets, including general public, University of Iowa faculty/staff and University of Iowa student season tickets by current students, should be directed to the University of Iowa Athletics Ticket Office. The office is open weekdays from 9 a.m. to 4 p.m. The office telephone number is 1-800-IA-HAWKS. Information is also available at hawkeyesports.com/fightforiowa.
 
 
By RICK BROWN
hawkeyesports.com
 
IOWA CITY, Iowa — They are two games Nate Kaeding will never forget, a pair of the most important victories Kirk Ferentz has had as Iowa's head football coach.
 
And both involve a goalpost.
 
Kaeding was a sophomore when he kicked a 47-yard field goal with 44 seconds remaining to give Iowa a 19-16 victory over Texas Tech in the 2001 Alamo Bowl.
 
"It was a huge moment," said Kaeding, who went on to become a consensus All-American and one of the most accurate kickers in NFL history. "I proved myself in one of the highest-pressure moments that there can be."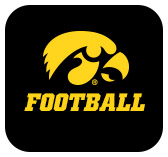 The following season, when Kaeding won the Lou Groza Award as the nation's best placekicker, Iowa wrapped up an 8-0 Big Ten season with a dominating 45-21 victory over Minnesota inside the Metrodome. The Hawkeyes' share of their first Big Ten title since 1990 came three seasons after Iowa had gone 0-8 in 1999 under a new coach named Kirk Ferentz.
 
"To go from 0-8 to 8-0 was so special," Ferentz said.
 
An estimated 25,000 Hawkeye fans poured into Minneapolis for that 2002 game. Some of them celebrated by tearing down the south goal post and trying to carry it out of the Metrodome.
 
"If you would have told anyone in 1999 or 2000, 'Hey, you'll be 8-0 in 2002 and walking the goalpost out of the Metrodome,' they would have told you you were crazy," Kaeding said.
 
These two victories are linked by more than goalposts. The 2001 Alamo Bowl was Iowa's first bowl bid since 1997, and first postseason victory since 1996.
 
"Some might look down on an Alamo Bowl game if they had higher expectations," Kaeding said. "But for us, it was a big deal. We came into it with a fresh perspective and a lot of excitement. We had a lot of young guys playing. We didn't know it at the time, but it was important in terms of maturation and the development of all the guys."
 
In truth, it carried more weight than one game. Quite possibly more weight than any of the seven bowl victories Iowa has enjoyed under Ferentz.
 
"Looking back on it now, you can see the momentum that gave us going into the next season, that level of confidence," Kaeding said. "And we followed it up with that 2002 season."
 
After four victories, total, in 1999 and 2000, the 2001 team started to gain traction. Iowa went 6-5 in the regular season, and 4-4 in Big Ten play, and drew a Texas Tech team with a high-powered offense led by quarterback Kliff Kingsbury.
 
Now the Red Raiders' head coach, Kingsbury finished with 309 yards passing, but had his last attempt picked off by Bob Sanders in the end zone on the game's final play.
 
Iowa quarterback Kyle McCann had a rock-solid effort, completing 19 of 26 passes for 161 yards. The Hawkeyes also got an unexpected lift from running back Aaron Greving, who stepped for starter Ladell Betts who entered the game with an injury and couldn't continue after the first series.
 
"I took my opportunity and ran with it," said Greving, who accounted for 115 of the Hawkeyes' 178 rushing yards and scored the lone touchdown.
 
Kaeding's right foot accounted for the other 12 points. He had already kicked field goals of 36, 31 and 46 yards when he lined up for his final attempt in the closing minute.
 
"That was a big moment in my development," Kaeding said. "And not unlike the team, it gave me a huge level of confidence that, "I can do this.'"
 
Kaeding had missed 13 field-goal attempts in his college career before knocking through the winner against Texas Tech. He missed just four of 45 attempts over his final two seasons.
 
"The Alamo Bowl was the tipping point for my era of guys," Kaeding said. "We all went out and put together a great year the next season."
 
Kaeding was one of 11 first-team all-Big Ten Hawkeyes in 2002. The others were quarterback Brad Banks, who made the most of his only season as a starter by being the Heisman Trophy runner-up, The Associated Press National Player of the Year, an All-American,l and winner of the Davey O'Brien Award; running back Fred Russell; offensive tackle Robert Gallery; center Bruce Nelson; tight end Dallas Clark, who won the John Mackey Award; offensive guard Eric Steinbach, the Big Ten lineman of the year; safety Bob Sanders; defensive end Howard Hodges; defensive tackle Colin Cole; and linebacker Fred Barr.
 
Minnesota was no match for a team that finished 11-2 and ranked No. 8 in the final AP poll. Ferentz was also named the AP National Coach of the Year.
 
Russell rushed for 194 yards on 17 carries, and Jermelle Lewis added 101 yards. Mo Brown also caught his 10th touchdown pass of the season, tying Quinn Early's school record at the time.
 
The Iowa defense forced six Minnesota turnovers and limited the Gophers to 285 yards of total offense. The Hawkeye offense rolled up 465 yards.  Banks threw for two touchdowns and ran for two more.
 
Hawkeye fans, at least those who weren't hunting goalposts, chanted "Heisman, Heisman" as Banks ran off the field. Iowa players hoisted Ferentz on their shoulders and carried him off the field.
 
"Believe me, nobody has enjoyed this year as much as I have," Ferentz said.
 
Vote for Your Favorite Game
Vote for the game you would select as one of the top 10 Hawkeye football games over the past 20 years: