Hawk Talk Monthly — June | 24 Hawkeyes to Watch – 2017-18 | I-Club Events Page | 3-Game Mini Packs
Editor's Note: The following first appeared in the University of Iowa's Hawk Talk Daily, an e-newsletter that offers a daily look at the Iowa Hawkeyes, delivered free each morning to thousands of fans of the Hawkeyes worldwide. To receive daily news from the Iowa Hawkeyes, sign up HERE.
By DARREN MILLER
hawkeyesports.com
 
IOWA CITY, Iowa — Most college football players, during the three-year course of compiling 124 tackles, 21 ½ tackles for loss, 10 sacks, and six quarterback hurries, can pinpoint a moment when they arrived, broke through, and made a lasting impact.
 
Most college football players aren't wired like University of Iowa senior defensive lineman Parker Hesse.
 
As the 6-foot-3, 261-pounder from Waukon, Iowa, prepares for his final season as a Hawkeye, he is also preparing for — in his mind — that initial aha moment.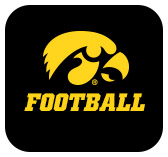 "The way I look at things, I'm still waiting for it," Hesse said. "My best football is ahead of me and that's what I'm trying to chase every day. I show up, coaches do a great job critiquing you and showing you ways to get better, and that is what I focus on and that's what we try to focus on program-wide."
 
It isn't like his first three years on the field were sub-par. The Hawkeyes won 28 games (18 in Big Ten play) from 2015-17, Hesse was named to a Big Ten All-Freshman team in 2015 and honorable mention All-Big Ten in 2016. Prior to the 2017 season, he was selected as one of four Hawkeye juniors to the team's Leadership Group.
 
"Your time here goes fast," Hesse said. "That's something everyone tells you throughout life, you don't believe it when you're young, but it's true."
 
When Hesse arrived at Iowa, the defensive line depth chart was stocked with the likes of Drew Ott, Nate Meier, Carl Davis, Faith Ekakitie, Louis Trinca-Pasat, and Jaleel Johnson.
 
"The way our program is built, we have a culture, tradition, and standard," Hesse said. "That's passed down from the older guys, great leaders who were in the program when I was young."
 
Davis plays professionally with the Baltimore Ravens, Johnson is with the Minnesota Vikings, Ekakitie is with the Winnipeg Blue Bombers of the Canadian Football League, and Trinca-Pasat is a free agent after playing for the St. Louis/Los Angeles Rams.
 
They held their end of continuing the Hawkeye heritage, now it's time for Hesse and Sam Brinks, two seniors on the preseason defensive line depth chart, to step up.
 
"All the experienced guys on the team feel responsible for passing down that set of standards and tradition to the younger guys," Hesse said.
 
While Hesse continues to work toward his breakthrough moment, one of the final plays of the 2017 season serves as adequate filler. Four-and-a-half minutes remained in the 2017 New Era Pinstripe Bowl and Boston College was faced with third down at midfield. Eagles quarterback Darius Wade dropped back to pass, but Iowa's Anthony Nelson beat Boston College tackle Chris Lindstrom and stripped the ball from Wade. Hesse recovered at the Eagles' 45-yard line.
 
Three plays later, fullback Drake Kulick plowed in from a yard to give the Hawkeyes a 27-20 lead they would not relinquish.
 
Hesse was outstanding during the Hawkeyes' 44-41 overtime victory at Iowa State in the Iowa Corn Cy-Hawk Series on Sept. 9, 2017. He shared the team tackle lead with seven (five solo), had a tackle for loss, a quarterback hurry, and a 13-yard interception return that led to a game-tying field goal in the fourth quarter.
 
"You never know when that moment will come, the big breakthrough, the big moment of success," Hesse said. "It's not that (single) moment that is significant, it is all the swings of the hammer before. That's what we're focusing on now and modeling our training around. Every day we show up and we're going to swing the hammer as hard as we can."
 
Hesse fits comfortably when it comes to the Iowa Athletic Department's motto of Win. Graduate. Do it Right. The Hawkeyes have averaged more than nine wins a season with Hesse in the lineup, the three-time Academic All-Big Ten and second-team Academic All-America selection earned an undergraduate degree in the spring of 2017, and everything he does from June until September is geared toward further success as a student and athlete.
 
"There are a lot of guys in the program who show up and push the pace," Hesse said. "Those guys are fun to be around; when you have athletes show up every day with that attitude, good things can happen."
 
Iowa opens the 2018 season with four straight home games, beginning with the Gold Game presented by the Iowa Soybean Association on Sept. 1 against Northern Illinois.