Hawk Talk Monthly — June | 24 Hawkeyes to Watch – 2017-18 | I-Club Events Page | Sign Up For Season Tickets | Apple App | Android App
Editor's Note: The University of Iowa Athletics Department, in conjunction with Coca-Cola, will produce exclusive video highlights of the top 10 Iowa football games over the past 20 seasons, as voted on by Hawkeye fans. Hawkeye fans will vote each week between two game options, with the winning game each week advancing as a top 10 moment. Beginning Aug. 13, the weekly countdown of the Top 10 games will begin, with Coca-Cola releasing 16 ounce cans across the Hawkeye State.  Fans will be able to view video highlights of each moment by scanning the Tigerhawk on the cans with the Hawkeye Sports App, via the new augmented reality feature coming to the Hawkeye Sports App later this summer. The release of the greatest moment of the past 20 years is scheduled for Monday, Oct. 8.
Fans can download the Hawkeye Sports App, free of charge, in the Apple App or Google Play stores.
 
Questions concerning the purchase of 2018 football tickets, including general public, University of Iowa faculty/staff and University of Iowa student season tickets by current students, should be directed to the University of Iowa Athletics Ticket Office. The office is open weekdays from 9 a.m. to 4 p.m. The office telephone number is 1-800-IA-HAWKS. Information is also available HERE.
 
 
By RICK BROWN
hawkeyesports.com
 
IOWA CITY, Iowa — Iowa's Fred Russell introduced himself to Florida's defense with a 25-yard run on the first play from scrimmage at the 2004 Outback Bowl. It was all downhill from there.
 
Russell rushed for 150 yards on 21 carries and was named the game's most valuable player after the Hawkeyes dominated Florida, 37-17, on Jan. 1, 2004. All these years later, Russell remembers the reason for his success that day.
 
"Those big holes from the offensive linemen," Russell said.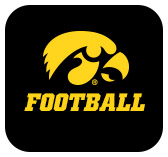 Kirk Ferentz became the first Hawkeye coach since Forest Evashevski (1959 Rose Bowl) to win a bowl game in January.
 
Each rebuilding story includes key steppingstone victories to get to January games like the Outback Bowl. One of those steps was a 21-16 victory over No. 25 Michigan State on Oct. 7, 2000.
 
Ferentz was in his second season as head coach and finding traction was hard to come by.  After a 1-10 season in 1999, Ferentz hired Reese Morgan from Iowa City West High School.
 
"At that time, everything was doom and gloom," Morgan said. "But coach Ferentz was unbelievably strong. He came in every day just to be kind of a motivator, a cheerleader. He would pick guys up. As a coach, you never had a chance to get down in the dumps."
 
Iowa had lost 15 of its first 16 games under Ferentz, including 13 in a row, when Michigan State came to Kinnick Stadium in 2000. The favored Spartans had a bulldozer of a running back named Tico Duckett.
 
It's fair to say that the Hawkeyes' 21-16 Homecoming victory was on the surprising side.
 
"That was one where we didn't win the statistics battle," Ferentz said. "We ran back a kickoff and scored on a screen pass from midfield. But we found a way to win."
 
Ferentz's positive approach and motivation outweighed some staggering statistics. Michigan State doubled Iowa offensively. The Spartans had 466 yards of offense, to 231 for the Hawkeyes.
Duckett finished with 248 yards rushing on 30 carries, including a 31-yard touchdown run with 1:22 to play in the third quarter that gave Michigan State a 16-7 lead.
 
But Iowa's Kahlil Hill returned the ensuing kickoff 90 yards for a touchdown. And when Jon Beutjer found Kevin Kasper for a 43-yard touchdown with 2:47 remaining in the game, Iowa had snapped a string of 14 consecutive Big Ten losses. Ferentz, who currently ranks sixth all-time with 86 Big Ten victories, was presented the game ball by his players.
 
It was not a picture-perfect game, but beauty was in the eye of the beholder.
 
"The whole thing was a Mona Lisa as far as I'm concerned," an emotional Ferentz said. "It was a Picasso."
 
In the weeks leading up to the 2004 Outback Bowl, Russell remembers how determined the team was to send the seniors out on top. They also wanted to flush the sour taste of a poor performance against USC in the Orange Bowl the year before. It turns out that Russell was one of those playing his final game in an Iowa uniform. He passed on a final season of eligibility and is sixth in career rushing with 2,760 yards.
 
"I was leaning toward that (decision) because I was on pace to graduate at semester," Russell said. "I just wanted to enjoy the moment."
 
At 5-feet-7, Russell had a knack for hiding behind his line, reading blocks, and then popping though at the most opportune time.
 
"Those guys made it easy for me," Russell said. "It makes life a lot easier when you don't have to do much reading, when the holes are open."
 
Iowa was ranked 12th entering the game. Florida, at No. 17, had a decided edge in trash talk leading up to kickoff, and quickly took a 7-0 lead. But the Hawkeyes became the team with swagger by scoring 20 unanswered points for a 20-7 halftime lead. Russell rushed for 95 yards in just 12 first-half carries, running behind a line anchored by Outland Trophy winner Robert Gallery.
 
Matt Melloy's touchdown after a blocked punt less than a minute into the third quarter kept momentum on Iowa's side. Russell provided the icing on the cake, a 34-yard touchdown run late in the game.
 
Maurice Brown caught six Nathan Chandler passes for 96 yards and a touchdown. Nate Kaeding closed his career with a three field goal day. Iowa's defense, with guys like Chad Greenway, Bob Sanders, Matt Roth, and Howard Hodges creating havoc, held the Gators to 59 yards on the ground. Sean Considine had nine tackles, one more than Hodges.
 
Gallery and Brown nailed Ferentz with a bucket of Gatorade as the final seconds ticked away.
 
"That was a good shower," Ferentz recalled.
 
The Orange Bowl hangover was officially gone.
 
"A win is always great, especially in January," Russell said. "Just knowing it was the last game for the seniors, seeing all the smiles on the faces of my teammates and coaches, and knowing how much effort we put into it. I remember our fans and how happy they were, and not having that funeral-feeling like they had the year before."
 
Russell accepted the most valuable player trophy that now resides in the home of his parents in Romulus, Michigan.
 
"I just let them gloat on that," Russell said. "They made a lot of sacrifices for me."
 
| | |
| --- | --- |
| Week One Winner | 2005 Capital One Bowl |
| Week Two Winner | 2002 Minnesota |
| Week Three Winner | 2004 Wisconsin |
| Week Four Winner | 2003 Michigan |
Vote for Your Favorite Game
Vote for the game you would select as one of the top 10 Hawkeye football games over the past 20 years: