Hawk Talk Monthly — June | 24 Hawkeyes to Watch – 2017-18 | I-Club Events Page | 3-Game Mini Packs | Kinnick at 100 — Iowa Alumni Magazine
Editor's Note: Nile Clarke Kinnick, Jr., was born July 9, 1918. In celebration of what would have been his 100th birthday, the University of Iowa Center for Advancement compiled this tribute to one of the greatest student-athletes in the history of the university. (LINK)
By JOSH O'LEARY
IOWA CITY, Iowa — A century after his birth and 75 years after his death, Nile Kinnick remains one of the most compelling figures in the history of the University of Iowa, the state of Iowa, and college athletics. Here are 10 ways Kinnick's spirit still burns bright in 2018:
 
1. Kinnick Stadium, renamed in 1972, is a college football landmark
The university's student government voted in favor of renaming Iowa Stadium after the fallen Kinnick following World War II. But Nile Kinnick, Sr., wasn't comfortable with the idea of his son being singled out over other students who had died in the war. Finally in 1972, when a local sportswriter rekindled interest in the idea, the elder Kinnick gave his blessing. At a dedication ceremony that fall, Nile Sr., was on hand to see Iowa Stadium officially become Kinnick Stadium. Built in 1929, the venue has undergone big changes over the decades, including a current $89 million renovation of the north end zone set for completion in 2019.
 
2. Players touch his statue for luck before every home game
Soon after the 16-foot statue of Kinnick was unveiled outside the stadium in 2006, a new tradition was born: Iowa head coach Kirk Ferentz and his team rubbed the bronzed helmet that sits beside the left foot of the statue on their way into the stadium each game day. The statue immortalizes Kinnick, an honors student and student body president, wearing his Iowa letter jacket and carrying textbooks. Likewise, inside the main entrance of the stadium stands a 20-foot bronze relief depicting Kinnick and the Ironmen scoring the winning touchdown in their famous 1939 win over Notre Dame.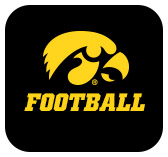 3. His Heisman speech is considered one of the greatest of all time
Kinnick was a thoughtful writer and eloquent speaker who had the ability to inspire a locker room or banquet room full of people. That charisma was never more evident than the night of Dec. 6, 1939, when Kinnick accepted the fifth annual Heisman Trophy in front of 800 people at the Downtown Athletic Club in New York. "I thank God I was warring on the gridirons of the Midwest and not on the battlefields of Europe," Kinnick said before the audience erupted in applause. Today, his memorable speech is played at Kinnick Stadium on game days before the national anthem.
 
4. His hometown recently built a Kinnick museum
The small town of Adel, Iowa, was home to one of the state's most influential families of the 20th century. In honor of hometown hero Kinnick and his grandfather, former Iowa Gov. George Clarke, the Adel Historical Museum constructed an addition dedicated to the two men in 2016. The organizers of this year's FryFest, which is Aug. 31 in Coralville, are also planning a July celebration at the Adel museum to mark Kinnick's 100th birthday. Kinnick's 100th birthday is this year's FryFest theme.
 
5. Kinnick's likeness is etched on the coin flipped before Big Ten football games
For more than 50 years, Kinnick has been a part of every Big Ten football game. When team captains meet at midfield before the opening kickoff, officials flip a ceremonial coin that features a portrait of Kinnick on the "heads" side and the Big Ten symbol on the "tails" side. The coin has been tossed at more than 4,000 games since it was introduced in 1962.
 
6. His name still stands atop the Hawkeye record books
It is said that records are made to be broken, but some of Nile Kinnick's gridiron feats have withstood the test of time. A two-way player, Kinnick's eight interceptions in 1939 remain a Hawkeye record, though three defensive backs have equaled it since: Lou King in 1981, Desmond King in 2015, and Josh Jackson in 2017. Kinnick leads the program in all-time career interceptions with 18 — a mark matched only in 1985 by Devon Mitchell. Kinnick's No. 24 is one of two jersey numbers retired at Iowa; Cal Jones' No. 62 is the other.
 
7. Nebraska is also home to a Kinnick Stadium
Omaha Northwest High School plays its home football games at Nile Kinnick Stadium, and a trophy case inside the school displays Kinnick's Iowa letter sweater and other artifacts. Kinnick was born and raised in central Iowa, but before his senior year of high school, his family moved to Omaha when Nile Sr., took a job at the Federal Land Bank there. Kinnick was a star basketball and football player at Benson High, and in 2007, Kinnick was inducted into the Omaha Sports Hall of Fame. Kinnick's younger brother by a year, Ben Kinnick, also was a sports standout in Omaha before attending Iowa State University. A little more than a year after Nile's death, Ben, who like his brother was a pilot, died on a mission in the Pacific.
 
8. There is a Nile Kinnick High School in Japan
In 1959, the American military schools in Yokohama, Japan, were transferred from the Army to Navy and renamed after notable Navy men. The following year, a dedication ceremony was held for Nile Clarke Kinnick, Jr., American School, which housed about 1,000 students in grades one through 12. The school relocated to Yokosuka in 1971 and is now known as Nile C. Kinnick High School, which serves about 600 students largely from U.S. military families. For a time, Tokyo was also home to a Nile Kinnick Stadium, though the sporting venue was demolished decades ago.
 
9. Six student-athletes receive Kinnick scholarships each year
In June 1944, less than a year after Kinnick's death, the Iowa City Junior Chamber of Commerce raised $50,000 to establish the Nile Kinnick Scholarship Fund. Sixty years later, in 2004, one of those scholarship recipients, Mark Schantz, established the Nile Kinnick Memorial Scholarship Women's Fund. And in 2006, Willard and Patricia Shaw founded the Nile Kinnick Leadership and Scholarship Award. Recipients of the six Kinnick scholarships this past academic year were football student-athletes Akrum Wadley, James Daniels, Noah Fant, and Ben Niemann; women's soccer student-athlete Kaleigh Haus; and men's track student-athlete Mar'Yea Harris. Kinnick's fraternity, Phi Kappa Psi, has awarded a Nile C. Kinnick Scholarship the past 22 years to outstanding first-year students. The fraternity endowed the scholarship with a $100,000 fundraising effort in 2014.
 
10. A movie is in the works about Kinnick's life
From triumph to tragedy, Kinnick's life story rivals that of any Hollywood script. Now, a filmmaker hopes to bring Kinnick to the big screen. Iowa City native and film producer Joe Heath is in the early stages of creating a movie titled The Ironmen based on Kinnick's famed 1939 team. Heath announced the film in 2017 and said he hopes to debut it in 2019 to an Iowa audience inside Kinnick Stadium, if all goes to plan. It wouldn't be the first time Kinnick's life was dramatized; in 2006, Iowa City's Riverside Theatre partnered with University of Iowa Athletics to stage an original play titled Kinnick at Hancher Auditorium.