Hawk Talk Monthly — June | 24 Hawkeyes to Watch – 2017-18 | I-Club Events Page | Sign Up For Season Tickets | Apple App | Android App
Editor's Note: The University of Iowa Athletics Department, in conjunction with Coca-Cola, will produce exclusive video highlights of the top 10 Iowa football games over the past 20 seasons, as voted on by Hawkeye fans. Hawkeye fans will vote each week between two game options, with the winning game each week advancing as a top 10 moment. Beginning Aug. 13, the weekly countdown of the Top 10 games will begin, with Coca-Cola releasing 16 ounce cans across the Hawkeye State.  Fans will be able to view video highlights of each moment by scanning the Tigerhawk on the cans with the Hawkeye Sports App, via the new augmented reality feature coming to the Hawkeye Sports App later this summer. The release of the greatest moment of the past 20 years is scheduled for Monday, Oct. 8.
Fans can download the Hawkeye Sports App, free of charge, in the Apple App or Google Play stores.
 
Questions concerning the purchase of 2018 football tickets, including general public, University of Iowa faculty/staff and University of Iowa student season tickets by current students, should be directed to the University of Iowa Athletics Ticket Office. The office is open weekdays from 9 a.m. to 4 p.m. The office telephone number is 1-800-IA-HAWKS. Information is also available HERE.
 
 
By RICK BROWN
hawkeyesports.com
 
IOWA CITY, Iowa — The Kirk Ferentz coaching era at the University of Iowa covers 240 football games. LeVar Woods has been a part of 141 of them as a Hawkeye player or member of the staff.
 
Woods played a significant role in Iowa's 24-0 victory over Northern Illinois on Sept. 18, 1999. Matt Bowen blocked a field goal that Woods scooped up and returned 87 yards for a touchdown.
 
"It's a play that I'll remember my whole life," Woods said.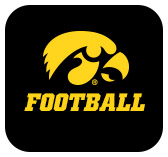 A three-year letterman at Iowa, Woods returned to his alma mater after seven NFL seasons in 2008. He started as an administrative assistant and has since coached linebackers, special teams, and tight ends. He is now special teams coordinator.
 
Woods was there when quarterback Ricky Stanzi and wide receiver Marvin McNutt hooked up on a 7-yard touchdown pass on the final play of the game for a scintillating 15-13 victory at Michigan State on Oct. 24, 2009.  
 
The Woods return and the Stanzi-McNutt connection are two of the most memorable plays of the Ferentz regime, for different reasons. The 1999 Northern Illinois game was the first of Ferentz's 143 victories at Iowa. The 2009 Michigan State game kept Iowa's perfect season alive at 8-0.
 
The Hawkeyes played with fire several times during that 2009 season which ended in the Orange Bowl.  They had to block field goals on consecutive plays to beat Northern Iowa in the season opener and later squeezed out a three-point victory over Arkansas State and sidestepped Michigan by two points a week later.
 
But they kept winning and walked into Spartan Stadium 7-0 and ranked seventh in the nation. A tight, tense 60 minutes of defense-inspired Big Ten football followed.
 
Iowa took a 9-6 lead in this duel of field goals when Daniel Murray booted a 20-yarder with 2:56 to play. It was a short-lived lead.
 
Michigan State quarterback Kirk Cousins threw a 30-yard touchdown pass to Blair White for a 13-9 advantage with 1:37 remaining. The go-head score had been set up by a hook-and-ladder play on third-and-18 earlier in the drive. Cousins passed it to Brian Linthicum, who tossed it back to White for a gain of 38 yards.
 
Cousins had been recruited by Iowa, but the Hawkeye staff gave the scholarship to McNutt, then a quarterback.
 
And McNutt got the final word in this gridiron drama, on the 10th and final play of a 70-yard drive. There was also some good fortune along the way. On a first-and-10 play from the Spartan 15 with 27 seconds on the clock, cornerback Chris L. Rucker picked off a Stanzi pass. But he was called for defensive holding. The penalty gave Iowa a first down at the Michigan State 7.
 
Three straight incompletions followed, setting the stage for the game's final play that was called by offensive coordinator Ken O'Keefe. McNutt, lined up to Stanzi's left, ran a slant pattern. He got inside position on Rucker and caught Stanzi's delivery in stride.
 
"We cleared out the left side for Marvin," Ferentz said. "He made a nice break inside and made a great grab. It was great execution, but certainly a lot of credit to Ken. What a fantastic call."
 
McNutt said the final play unfolded in slow motion.
 
"Once I got open, I didn't even know if he was going to throw it," McNutt said. "Then I saw the ball and I said, "OK, just catch it. And then I thanked God for helping me catch it."
 
Iowa players stormed the field in celebration.
 
"I can hardly remember how I celebrated," Stanzi said. "I just remember freaking out and everyone jumping around."
 
Bowen said his blocked field goal in 1999 is a play he will always remember.
 
"Greg Morris, the equipment manager, came up to me with ball and said, 'You should give this to coach for his first win,'" Bowen recalled. "We all came together, and I was honored and privileged to be the one to hand coach the game ball. I'm pretty sure he still has it in his office. It was a very cool experience for me."
 
Ferentz has numerous footballs in his office, each once marking a significant moment in his coaching career. And yes, the football that Bowen gave him after win No. 1 is still on display.
 
Iowa had a 3-0 led over the Huskies at halftime. Then quarterback Randy Reiners directed the Hawkeyes on a 99-yard drive that started in the third quarter and carried over to the fourth.
 
 Reiners finished the drive with a 2-yard keeper. Three minutes later, Woods gathered in the football after Bowen's block and took it to the house.
 
"I'm not sure we could have won the game if not for that," Ferentz said. "We were hardly a prolific outfit at that point."
 
That would be the only victory of the 1999 season.
 
"At the time it was disappointing," said Bowen, who would go on to play in the NFL for seven seasons. "But as I look back on it now, that season taught me more about football and life than anything ever would. I am so privileged to have played for coach Ferentz, and for Norm (Parker), and for Phil (Parker), and to work with (strength and conditioning coach) Chris Doyle."
 
Despite just one victory his senior season, Bowen left the program convinced brighter days were coming.
 
"I think we all knew that coach Ferentz was special," Bowen said. "And even though we didn't have a great season in 1999, we knew he was going to take the Hawkeyes great places. And he has."
| | |
| --- | --- |
| Week One Winner | 2005 Capital One Bowl |
| Week Two Winner | 2002 Minnesota |
| Week Three Winner | 2004 Wisconsin |
| Week Four Winner | 2003 Michigan |
| Week Five Winner | 2004 Outback Bowl |
Vote for Your Favorite Game
Vote for the game you would select as one of the top 10 Hawkeye football games over the past 20 years: