Hawk Talk Monthly — June | 24 Hawkeyes to Watch – 2017-18 | Single Game Football Tickets | I-Club Events Page | 3-Game Mini Packs
IOWA CITY, Iowa — The University of Iowa Athletics Department announced July 18 that three-time Grammy nominee Pat Green will perform during halftime of the Northern Iowa at Iowa football game in Kinnick Stadium on Sept. 15. Green joins the Hawkeye Marching Band and the Northern Iowa Panther Marching Band to perform "Wave on Wave," the anthem of the Iowa Wave to the University of Iowa Stead Family Children's Hospital.
Green has sold more than two million albums and released a string of 15 hits on the Billboard Top Country Singles Chart.
"It is an incredible honor to be part of an endeavor where the sole purpose is to enrich children's lives and make them smile," Green said.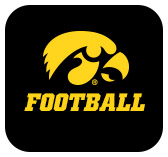 "The Fight for Iowa game Sept. 15 is our celebration of the state of Iowa," said Charlie Taylor, University of Iowa associate athletics director, strategic communications and marketing. "We could not be more excited to host Pat Green and both marching bands under the lights in Kinnick Stadium to salute our heroes in the Stead Family Children's Hospital."
The marching bands will have a traditional performance of one number before they join Green in "Wave on Wave." Green will perform from the stands near the south end zone with 50 members of each band. The combined remaining Hawkeye and Panther band members will create images on the field for the children to view during the performance.
"The University of Iowa Hawkeye Marching Band is proud to be part of this wonderful collaborative performance," said Dr. Eric Bush, director of the Hawkeye Marching Band. "The tradition of the wave transcends the competition taking place on the field and for a few minutes during halftime, we are thrilled to come together as fans, neighbors, and Iowans to recognize these courageous children in the University of Iowa Stead Family Children's Hospital. The Hawkeye Marching Band is grateful to Pat, his band and crew, the UNI Panther Marching Band, and the administrations of our two institutions for coming together to make this memorable performance possible."
"The students, faculty, and staff of the UNI Panther Marching Band are honored and thrilled to participate in what is sure to be a landmark event surrounding one of the great traditions in college football," said Justin Mertz, director of the UNI Panther Marching Band. "We thank the University of Iowa and Pat Green for inviting us to join them in saluting the children at the University of Iowa Stead Family Children's Hospital. While our two universities might be opponents on the football field, we will unite as musicians for the children."
Iowa Athletics would like to thank the following groups for their efforts in planning to make this unique performance a reality: Green, the Hawkeye Marching Band, the Panther Marching Band, Triple 8 Management, First Avenue Productions of Iowa City, and Sound Concepts.
Single game tickets and mini-packs for Hawkeye football are on sale. Fans can visit hawkeyesports.com/fightforiowa for more information or HERE to purchase Iowa versus UNI game tickets.
A three-time Grammy nominee, Green has become a cultural force across the country that has sold out venues from Nokia Theater in Time Square and House of Blues Los Angeles to the Houston Astrodome in Texas. Respected by his peers, he has co-written with artists ranging from Willie Nelson and Chris Stapleton to Jewel and Rob Thomas. Green's live shows have made him a fan favorite, landing tours with Nelson, Kenny Chesney, Keith Urban, and Dave Matthews Band.
Named "the Springsteen of the South West" by People, Green has sold more than two million records and has released 10 studio albums. He has a string of 15 hits on the Billboard Country Radio Chart and 12 No. 1 hits on the Texas Radio Chart, including his latest single "Drinking Days," which spent an unprecedented seven weeks at No. 1. He has been praised by Esquire, NPR, Rolling Stone, People, Billboard, USA Today, American Songwriter, Paste, The New York Times, The Los Angeles Times and has appeared on Jimmy Kimmel Live!, Austin City Limits, and Late Show With David Letterman. His album "What I'm For" made its debut at No. 2 on the Billboard Top Country Albums Chart, which was followed by his critically acclaimed love letter to his fans "Home."