Hawk Talk Monthly — June | 24 Hawkeyes to Watch – 2017-18 | Single Game Football Tickets | I-Club Events Page | 3-Game Mini Packs
Editor's Note: The following first appeared in the University of Iowa's Hawk Talk Daily, an e-newsletter that offers a daily look at the Iowa Hawkeyes, delivered free each morning to thousands of fans of the Hawkeyes worldwide. To receive daily news from the Iowa Hawkeyes, sign up HERE. 
By DARREN MILLER
hawkeyesports.com
IOWA CITY, Iowa — In late April, the National Football League (NFL) called University of Iowa student-athletes James Daniels, Josh Jackson, and Josey Jewell. In July, it called Kimberly Chexnayder.
 
While Daniels was drafted by the Bears, Jackson by the Packers, and Jewell by the Broncos, Chexnayder is taking a different route into professional football. The 22-year-old, who graduated in May with a degree in journalism and mass communication with a certificate in critical cultural competence, moved to New York City on July 18 where she will begin a two-year stint with the NFL. The first of her seven rotations is working with international media and international business development.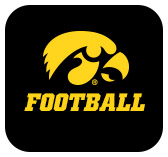 Chexnayder, a native of Kansas City, Missouri, first ventured to the University of Iowa because of a scholarship to Belin-Blank Honor College Camp.
 
"Iowa City is a cool little spot and I loved the university," Chexnayder said. "As my college search continued, I realized there was something special about Iowa City."
 
Heading into her sophomore year at Iowa, she joined S.T.A.R., also known as Students to Assist Recruitment within the University of Iowa Office of Admissions. The admissions staff then recommended that Chexnayder become a Hawkeye Host for the football program.
 
"At first I said no, I wanted to tailgate and be with my friends (on game days)," Chexnayder said. "But after meeting with (director, player personnel) Scott (Southmayd) and (recruiting coordinator/assistant defensive line coach) Kelvin Bell, I realized this could be a great opportunity."
 
Others in the Richard O. Jacobson Football Operations Building recognized that Chexnayder's outgoing personality and communications skills would be ideal for an on-air host of the popular video series called "Between the Tigerhawks," introducing hidden talents of members of the Iowa football team and other behind-the-scenes segments.
 
Throughout the season, Chexnayder continued to add to her resume. Steve Roe, assistant athletics director, athletic communications, put her in touch with staff from ESPN and she worked as remote talent coordinator for the Ohio State-Iowa football game Nov. 4. Impressed by Chexnayder's work ethic and professionalism, ESPN flew her to the 2017 Capital One Orange Bowl in Miami to again assist with the announcing crew of Steve Levy, Todd McShay, and Brian Griese.
 
While she will still work part time for ESPN from New York, the "main gig" for Chexnayder is with the NFL. In her first rotation, Chexnayder will be responsible for supporting the group in pursuing partnerships, content and distribution opportunities, and supporting media strategy for the NFL. She will also provide analysis of trends across global markets, conduct market research, and review and negotiate commercial agreements. Other rotations are broadcasting, labor operations, events, product team, club and labor finance, and media strategy and business development.
 
The two-year position is fulltime and Chexnayder hopes to continue in the NFL when her rotations conclude.
 
"I want to be a woman of color in sports who has an impact," Chexnayder said. "If you look at all the things happening in sports and the political realm, I think there are a few seats at the table that could use somebody who looks like myself and has my background.
 
"I'm bringing a different perspective and I want to be able to use my education, experience, and gender and educate them on ways the NFL could improve or things they are already doing that we can take to the next level."
 
Not surprising, when Chexnayder interviewed for the NFL position, she shared a mutual acquaintance with an interviewer: Iowa head coach Kirk Ferentz.
 
"In every realm of football, whether it be the NFL or college, coach Ferentz is such a name, has notoriety, and is respected," Chexnayder said. "That helped me throughout my application process to say I am coming from this program and our head coach knows me by name and he only allows people to be part of this program if they have the same morals and determination he does."
 
Chexnayder will reside in Long Island City, one subway stop from Manhattan.
 
"It takes me seven minutes to get to work," Chexnayder said. "I got lucky."