Hawkeye Fan Shop — A Black & Gold Store | Hawk Talk Monthly — June | Single Game Football Tickets | Photo Gallery
By JAMES ALLAN
hawkeyesports.com
CHICAGO — University of Iowa head football coach Kirk Ferentz held an "on-the-side" 15-minute media session Monday afternoon at the Chicago Marriott Downtown on the Magnificent Mile.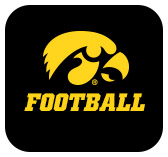 Ferentz touched on a range of topics from breaking Hayden Fry's Iowa all-time victory record to new rules in college football to up-and-comers in the Hawkeyes' defensive secondary. 
 
ONE-WEEK COUNTDOWN
With his next victory, Ferentz will pass Hayden Fry (143 victories) as Iowa's all-time winningest coach, but the Hawkeyes' 20th-year head coach doesn't want talk of the milestone to carry into the month of August.
 
"I haven't thought a lot about the wins record, especially since the last time I met with the media," said Ferentz. "It has made me think about all the games that could have been or would have been and had we gotten any one of those, this would be a dead topic, which would be nice.
 
"My request, once we get to August, we're going to talk about 2018 and not what happened before."
 
JOINING THE RUNNING BACK CROWD
The Hawkeyes are green at the running back position with a pair of sophomores — Toren Young and Ivory Kelly-Martin — being listed on the depth chart.  Iowa's depth received a lift with the addition of junior college transfer Mekhi Sargent.
 
The Iowa Western standout was a first-team All-American after rushing for 1,449 yards in 10 games. He averaged 7.1 yards per attempt and fumbled once in 205 carries.
 
"What peaked my attention most about Mekhi was when (recruiting coordinator) Kelvin Bell saw him play live in December and he made the comment that he thought he was a Division I player and he could be a good back," said Ferentz.
 
"At that point we didn't have room and it didn't make sense for us, but as we moved forward and Toks' (medical redshirt) was becoming final, it made perfect sense. He's a tremendous young man and he could be a good football player on top of it."
 
ROSTER UPDATE
Toks Akinribade along with offensive lineman Spencer Williams and linebacker Kyle Taylor have had their careers cut short by injury.  All three will take permanent medical redshirts, ending their Iowa football careers.
 
Ferentz also confirmed the transfers of Manny Rugamba, Nate Wieland, Cameron Harrell, Romeo McKnight, and Cedric Boswell.
 
ALL IN FAVOR
Ferentz is a fan of the new rule in college football where first-year players can play up to four games without burning an opportunity to redshirt. 
 
"It's a good thing," said Ferentz. "I look at it two-sided; it gives you an opportunity early in the season to test-drive somebody and see how they come along.  If it doesn't look like it's going to work, then you can pull back and protect that year.
 
"There are going to be other guys that start to ascend during the season. It's not necessarily because of injury or attrition, it might be that this guy is coming on and can help us the last couple of games.
 
"We're open to anybody, if they can help us win, we're all for it."
 
NEW KICKOFF RULES ARE…INTERESTING
Ferentz says the new kickoff rule — where the receiving team can fair catch a kickoff inside the 25-yard line and have it result in a touchback — is going to lead to interesting discussions among the coaching staff.
 
"There isn't going to be a set formula, because there are a lot of variables like if you need a play or if you have a dynamic return guy," said Ferentz. "Anytime you try to bring one out all you have to do is miss one block and you're inside the 20 and that's not good.  The odds tell you to take it on the 25, but it might not be that simple."
 
NEXT UP AT DEFENSIVE BACK U
A year ago at Big Ten Media Days, for the Hawkeyes the question was posed about who would replace starting defensive backs Desmond King and Greg Mabin.  Josh Jackson turned out to be one of the answers and he parlayed his All-America junior season into being a second-round pick in the NFL Draft.
 
Sophomore Matt Hankins and junior Michael Ojemudia (who started the season opener alongside Jackson) are atop Iowa's preseason depth chart.  Ferentz has also seen growth from a pair of redshirts.
 
"Trey Creamer came on this spring and a guy that is trending upward is Josh Turner," said Ferentz. "The guys ran (July 20) and he ran like a champ. That's encouraging because he was young in the spring. He's showing signs of being the guy we recruited.
 
"We have an open mind to the first-year guys, too. We want those players to come in and compete and typically in the back-end, we end up that way.  There is potential there."
 
Ferentz will be the first head coach to take the stage on day two of the Big Ten Football Media Days on Tuesday.  His formal news conference will begin at 8 a.m. (CT) and it will be televised live on BTN.