Hawk Talk Monthly — June | 24 Hawkeyes to Watch – 2017-18 | Single Game Football Tickets | I-Club Events Page | Photo Gallery
Editor's Note: The following first appeared in the University of Iowa's Hawk Talk Daily, an e-newsletter that offers a daily look at the Iowa Hawkeyes, delivered free each morning to thousands of fans of the Hawkeyes worldwide. To receive daily news from the Iowa Hawkeyes, sign up HERE.
By DARREN MILLER
hawkeyesports.com
 
CHICAGO — The 2018 Big Ten Conference Football Media Days kicked off at the Chicago Marriott Downtown Magnificent Mile on Monday. For the 20th consecutive year, University of Iowa head coach Kirk Ferentz was there.
 
It has been two decades of success in Iowa City. The longest-tenured head coach in Division I college football won't take the podium until Tuesday morning, but several of his peers in the league commented about his longevity.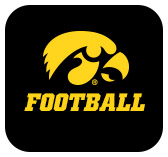 Steady. Prepared. Builds and develops. Good man. Genuine.
 
Hawkeye fans aren't the only people using those adjectives to describe Ferentz. So do his challengers.
 
"It is who he is as a person," said Northwestern head coach Pat Fitzgerald. "He is as genuine from the first time I met him until I see him (Tuesday). You can set your watch on his attitude and personality.
 
"The University of Iowa is a special football school and that fan base is awesome. He obviously had consistent, championship-level success that has led to a confidence in the fan base in him that year-in and year-out they will always be competing for the Big Ten West championship. It is because he is genuine, regardless if he is answering your question here, on a golf course playing golf, or in Des Moines watching Hamilton; he is the same guy and that's why he has been able to endear himself to the community."
 
The newest hire in the league is Nebraska's Scott Frost. This will be the first season for Frost on the Cornhuskers' sideline, but he is familiar with the Hy-Vee Heroes Game and his coaching adversary who will be standing across the field.
 
"He has had consistency there," Frost said. "The biggest thing that keeps you anywhere for a long time is being a good person and Kirk Ferentz is a good man."
 
Jeff Brohm begins his second season at Purdue. He calls Iowa's style under Ferentz "traditional Big Ten football."
 
"He knows the game of football and he has a lot of great experience on his staff," Brohm said. "They have a certain style and brand of football they bring to the table and you have to find a way to beat it. He is always going to be steady and prepared and he has done a great job in his career at Iowa."
 
Chris Ash has faced plenty Ferentz-coached teams as an assistant coach at Iowa State, Wisconsin, and Ohio State before being named head coach at Rutgers.
 
"He is a really good coach who surrounds himself with good people," Ash said. "He has tremendous support and he knows the landscape at the University of Iowa and how to recruit to the program. They have done a great job developing players; I could go on and on.
 
"If you are a place for 20 years, you are doing a lot of things right. It's not just one characteristic or one thing you do in your program, there is a long list. I watched him build Iowa's program and consistently win at a high level. The plan doesn't change; the names on the back of the jersey change, but the plan doesn't change."
 
Michigan head coach Jim Harbaugh said "people go far in the game of football when they are good."
 
Penn State head coach James Franklin said that in order to have success and longevity, everyone at the institution needs to "pull the rope in the same direction."
 
"Obviously Iowa has been doing it with coach Ferentz for a long time, probably as good as anybody," Franklin said.
 
On Tuesday, Ferentz won't mind talking about 19 years and counting as Iowa's head coach. He will acknowledge his school-record-tying 143 Hawkeye victories. But when practice starts in August, he wants to focus solely on what happens during the 2018 season.
 
"I am appreciative and I feel fortunate," Ferentz said. "But my request, once we get to August, we're going to talk about 2018 and not what happened before."