Hawkeye Fan Shop — A Black & Gold Store | Fight For Iowa
IOWA CITY, Iowa — Josef Manilla has been named an assistant coach with the University of Iowa men's tennis program, Mellecker Family Head Men's Tennis Coach Ross Wilson announced Tuesday.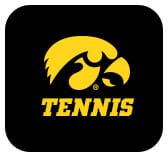 Manilla comes to Iowa City from the University of Michigan where he served as a volunteer assistant for the 2017-18 season. He helped improve the team to a No. 14 national finish and a midseason ranking of No. 7. The Wolverines matched their best ever finish in the NCAA Tournament before losing to No. 2 UCLA in the Sweet 16. Manilla assisted in guiding All-Americans Alex Knight and Leo Hua into the NCAA Tournament in singles and doubles.
Prior to Michigan, Manilla served as special assistant to Brian Boland, former head coach of the University of Virginia. During the 2016-17 season, the Cavaliers won the NCAA Team National Championship, the singles national championship, ITA Indoor National Championship, and the Atlantic Coast Conference title. Manilla also toured as coach and manager of the ATP Pro, JC Aragone, helping him improve his world ranking from No. 750 to No. 422, while serving as an assistant to John Roddick, director of tennis at the University of Central Florida 
In his first stint in college tennis, Manilla was the head men's and women's tennis coach at Lynchburg College, bringing the team from last place into the top four in the Old Dominion Athletic Conference. Additionally, Manilla tabbed the program's first ever top-25 recruiting class and the top rated recruit in the country for both the men's and women's squads.
A native of Charlottesville, Virginia, Manilla earned his degree from Christopher Newport University where he was the team captain and four year starter, earning first team all-conference tournament recognition in 2013. He was one of 14 students hand-selected by former Congressman, Senator and University President, Paul Trible, to serve his alma mater in a postgraduate fellowship. 
"I am very honored and thankful to join the Hawkeye tennis family," said Manilla. "Coach Wilson, with the full support of the Iowa Athletics Department, has done a tremendous job growing the tennis program on the court, in the classroom, and in the community. I am excited to learn from coach Wilson and all of the players." 
WHAT OTHERS ARE SAYING ABOUT MANILLA:
 
"Joey will be a great addition to the Iowa staff. I am excited for him to take this next step in his career and have no doubt he will help the Iowa men's tennis program reach new heights."  — Michigan head coach Adam Steinberg
"He is a person that takes care of every detail. That is so important when making a college team successful." — Pat Etcheberry
 
"Joey's discipline is second to none, he will work until the job is done and he always does it with a positive attitude. It makes working with him a true pleasure." — JC Aragone, Professional Tennis Player
 
"Joey is a hard worker and has a desire to become a great college tennis coach. His experience working with some of the best coaches in the country give him a great reference point for success. Joey will be a great asset to the Iowa staff." — Nebraska head coach Sean Maymi