Hawk Talk Monthly — June | 24 Hawkeyes to Watch – 2017-18 | Single Game Football Tickets | I-Club Events Page | Apple App | Android App | Sign Up For Season Tickets
Editor's Note: The University of Iowa Athletics Department, in conjunction with Coca-Cola, will produce exclusive video highlights of the top 10 Iowa football games over the past 20 seasons, as voted on by Hawkeye fans. Hawkeye fans will vote each week between two game options, with the winning game each week advancing as a top 10 moment. Beginning Aug. 13, the weekly countdown of the Top 10 games will begin, with Coca-Cola releasing 16 ounce cans across the Hawkeye State.  Fans will be able to view video highlights of each moment by scanning the Tigerhawk on the cans with the Hawkeye Sports App, via the new augmented reality feature coming to the Hawkeye Sports App later this summer. The release of the greatest moment of the past 20 years is scheduled for Monday, Oct. 8.
Fans can download the Hawkeye Sports App, free of charge, in the Apple App or Google Play stores.
 
Questions concerning the purchase of 2018 football tickets, including general public, University of Iowa faculty/staff and University of Iowa student season tickets by current students, should be directed to the University of Iowa Athletics Ticket Office. The office is open weekdays from 9 a.m. to 4 p.m. The office telephone number is 1-800-IA-HAWKS. Information is also available HERE.
 
 
By RICK BROWN
hawkeyesports.com
 
IOWA CITY, Iowa — Pat Angerer has the deepest respect for the late Norm Parker.
 
"He was the best," Angerer said.
 
Parker, who passed away in 2014, was Iowa's defensive coordinator when Angerer played linebacker for the Hawkeyes. Angerer was a senior and earned first-team All-Big Ten honors in 2009, when Parker's wizardry laid the foundation for two of the best victories under head coach Kirk Ferentz.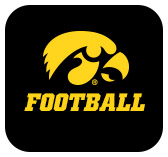 One was a 21-10 triumph at No. 4 Penn State on Sept. 26, 2009. The Hawkeye defense silenced a crowd of 109,316 by pitching a shutout over the last three quarters and forcing four second-half turnovers.
 
The other was a 24-14 Orange Bowl victory over Georgia Tech on Jan. 5, 2010, when Iowa's defense put the clamps on the Yellow Jackets' potent triple-option offense.
 
"That was (Parker's) work right there," Angerer said. "It was all him."
 
The Orange Bowl was Iowa's most significant victory since a 38-12 decision over California in the 1959 Rose Bowl.
 
Georgia Tech, the Atlantic Coast Conference champion, came into the Orange Bowl averaging 307.2 rushing yards a game.
 
"From our first meeting, just going over the basics of that offense, we knew it wasn't going to be effective," Angerer said. "We had a lot of time to prepare for them. When you have a triple option, it's hard because most teams have a week to prepare for it. We had more than a month."
 
During that time, Iowa's scout team got very good at running that triple-option attack, which helped prepare the defense.
 
"We knew what to expect, and we felt confident going into the game," Angerer said. "The game plan was flawless. It helps, too, when you have (Adrian) Clayborn doing his thing (at defensive end)."
 
Angerer recalls Parker coming up to him the day before the game and telling him he would have a lot of tackles. I said, "Man, I hope so."
 
Georgia Tech, 11-2 and ranked ninth nationally, had outscored opponents in the first quarter, 106-69.
 
"I felt like they didn't have a first down forever," Angerer said.
 
Georgia Tech had one first down the entire first half and Iowa quarterback Ricky Stanzi put them in a quick hole. The Hawkeyes scored on two of their first three possessions for a 14-0 first-quarter lead. Stanzi completed eight straight passes at one point, including touchdown tosses of three yards to Marvin McNutt and 21 yards to Colin Sandeman. It was nine straight if you include the ball that Georgia Tech's Jerrard Tarrant picked off and returned for a touchdown in the final minute of the first quarter.
 
Georgia Tech managed just one offensive touchdown, which cut Iowa's lead to 17-14 early in the fourth quarter. The Yellow Jackets' ground game never got traction. Iowa true freshman Brandon Wegher's 32-yard touchdown run with just over two minutes to play put the game away.
 
"Their quarterback (Josh Nesbitt) was a good player, but he wasn't much of a pass threat," Angerer said. "So we knew if we stopped the run, we had them."
 
The Yellow Jackets managed just nine first downs for the game and 143 rushing yards in 41 carries against an Iowa defense that played assignment football to perfection. After the game, Parker found Angerer.
 
"He was bright-eyed and his cheeks were pink, and he said, 'Man, we did it,'" Angerer recalls. "He said, 'How many tackles did you have?' I said, Clayborn had most of them. But it was just so fun."
 
Angerer finished with 10 tackles. Clayborn was named the game's Most Outstanding Player, recording nine tackles including a pair of sacks.
 
Angerer and Clayborn were right in the middle of Iowa's victory at Penn State earlier that season, a game that got off to an ominous start.
 
Penn State quarterback Daryll Clark hit Chaz Powell for a 79-yard touchdown strike on its first play of the game. The Nittany Lions had a 10-0 lead after the first quarter. But that's when Iowa's defensive buckled down.
 
Broderick Binns tackled Clark in the end zone for a second-quarter safety and Daniel Murray added a 41-yard field goal to make it 10-5 at halftime. Iowa had possession of the ball for 10:06 of that quarter, with seven first downs and 124 yards of offense. Penn State had no first downs and seven yards of offense.
 
Iowa never trailed after Clayborn blocked a punt and returned it 52 yards for a touchdown with 12 minutes, 21 seconds remaining in the game.  
 
"Our guys knuckled down and started getting confidence," Ferentz said.
 
Angerer, who had 14 tackles, gathered a tipped pass and returned it 38 yards to the Penn State 24 yard line on the Nittany Lions' next possession. Three plays later, Adam Robinson ran 13 yards for another Iowa touchdown.
 
Penn State moved deep into Hawkeye territory again, but Angerer stripped Evan Royster of the ball and Iowa took over at its own 19. An A.J. Edds interception, Iowa's third of the game, led to Murray's 31-yard field goal to complete a 21-0 run.
 
Penn State had 307 yards of total offense, but just 228 after that Clark-Powell connection.
 
Unranked in The Associated Press poll entering Beaver Stadium that night, Iowa shot to 13th the next week and spent six weeks in that top 10. That included a No. 7 ranking in the final poll of the season, after that Parker-perfect Orange Bowl victory over Georgia Tech.
 
"That's one of my best memories of coach Parker, just seeing how happy he was after that game," Angerer said.
| | |
| --- | --- |
| Week One Winner | 2005 Capital One Bowl |
| Week Two Winner | 2002 Minnesota |
| Week Three Winner | 2004 Wisconsin |
| Week Four Winner | 2003 Michigan |
| Week Five Winner | 2004 Outback Bowl |
| Week Six Winner | 2009 Michigan State |
| Week Seven Winner | 2015 Pittsburgh |
Vote for Your Favorite Game
Vote for the game you would select as one of the top 10 Hawkeye football games over the past 20 years: