Hawk Talk Monthly — June | 24 Hawkeyes to Watch – 2017-18 | Single Game Football Tickets | I-Club Events Page | Photo Gallery
Editor's Note: The following first appeared in the University of Iowa's Hawk Talk Daily, an e-newsletter that offers a daily look at the Iowa Hawkeyes, delivered free each morning to thousands of fans of the Hawkeyes worldwide. To receive daily news from the Iowa Hawkeyes, sign up HERE.
By DARREN MILLER
hawkeyesports.com
 
CHICAGO — The opportunity was available to all novice football players in Menomonie, Wisconsin. It was available when they were experimenting with flag football through fifth grade, seven-on-seven touch football in sixth and seventh grades, and even in eighth grade when they started tackle football.
 
"Coaches gave people the opportunity to try different positions," University of Iowa junior Nate Stanley said.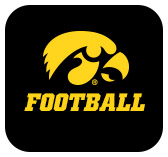 Stanley didn't need variety, he knew he was destined to spend his playing days under center. He is searching for consistency.
 
"I was always better at quarterback than I was at other positions," he said.  
 
Stanley was pretty decent during his first season as the Hawkeyes' starting quarterback. Iowa went 8-5 overall in 2017 and won the New Era Pinstripe Bowl with a 27-24 victory over Boston College. Stanley completed 56 percent of his 351 pass attempts for 2,437 yards and 26 touchdowns. He threw six interceptions, but none during the final two games of the season — a 56-14 win at Nebraska and during the bowl victory.
 
Stanley joined seniors Parker Hesse and Matt Nelson as Iowa's student-athlete representatives at Big Ten Football Media Days on July 23-24 at the Chicago Marriott Downtown. The only other underclassman the Hawkeyes have brought to the preseason gathering was linebacker Josey Jewell in 2016.
 
"I think that in itself is significant," Iowa head coach Kirk Ferentz said. "That tells you how far Nate came last year, from being a guy we weren't sure was going to start in August. At this time last year we didn't know who our starter was, and he had a good season. But most important, he has gained the respect and confidence of his teammates."
 
It wasn't always a smooth ride, something common with most teams in the Big Ten and especially when that team has a first-year starting quarterback. Case in point is a two-week span over the first two Saturdays in November. On Nov. 4, the Hawkeyes embarrassed No. 3 Ohio State, 55-24, in Iowa City. Stanley completed 20-of-31 passes for 226 yards and five touchdowns.
 
Seven days later, on Nov. 11, the Hawkeye offense spun its wheels during a 38-14 loss at No. 6 Wisconsin. Stanley completed 8-of-24 passes for 41 yards and an interception.
 
With 13 games as a starter under his belt, Stanley expects the Hawkeye offense to be more consistent when Iowa opens the season Sept. 1 against Northern Illinois.
 
"I feel a lot better about the experience a lot of us have," Stanley said. "We have a lot of guys on the offensive end with (center) Keegan (Render) and (tackle) Tristan (Wirfs) and (tackle) AJ (Alaric Jackson), who were playing for the first time last year. I am more comfortable with that offensive line and trust them."
 
Stanley said consistency begins with fundamentals and spills onto the field. It's about repetition and having confidence in the people he is throwing to. Not only is Stanley a year older and wiser, but his top two receiving targets return in wide receiver Nick Easley (51 catches, 530 yards, four touchdowns) and tight end Noah Fant (30-494-11).
 
"It's great to have Nate back; he has worked extremely hard," Ferentz said. "A few things you can't give players are experience and confidence. Nate has been able to benefit from a year of play and we are looking forward to good things from him this fall."
 
Good things week after week after week.