Hawk Talk Monthly — June | Single Game Football Tickets | I-Club Events Page | Photo Gallery
Editor's Note: The following first appeared in the University of Iowa's Hawk Talk Daily, an e-newsletter that offers a daily look at the Iowa Hawkeyes, delivered free each morning to thousands of fans of the Hawkeyes worldwide. To receive daily news from the Iowa Hawkeyes, sign up HERE.
By BRANDEE BRITT
hawkeyesports.com
 
IOWA CITY, Iowa — Nestled in between State Highway 25 and 29 is the city of Menomonie. Named for the historic Native American tribe — the Menominee, the Wisconsin city is home to 16,464 people, including University of Iowa junior quarterback Nate Stanley.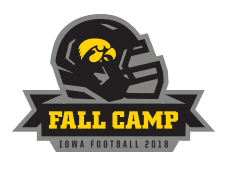 Menomonie is a sports town, and on any given fall Friday, the town packs the bleachers to cheer their Mustangs to victory. But on this late-May morning as a slight drizzle falls from the sky, Nate Stanley sits in his high school's parking lot, waiting to get into the weight room.
 
It is 6 a.m., and he's there a little early. That's common for Nate, he has always been ahead of schedule.
August birthday club
 
Nate is the youngest of Jay and Donita Stanley's three children. After two routine pregnancies with his sister, Leah, and brother, Luke, the Stanley family expected the same the third time around. Then, with more than six weeks until her October due date, Donita's water broke.
 
"It was a Monday morning and they had to stop my labor," Donita said. "Then they left it up to us to wait."
 
After pondering their options, the Stanley family decided it was time to welcome baby No. 3.
 
But maybe, it was just Nate's way of already calling the plays.
 
The next day — August 26, 1997 – their "Nater" was officially welcomed into the Stanley family's August birthday club. Now, it's clear that there was a reason Nate was ready to make his entrance six weeks early.
 
"His due date was in October, but his start to life and claim to fame is that he didn't want to be outside of the party — the August birthday parties," Donita said. "When he was born, he was pretty healthy. He was six pounds. We said God was watching after us and He knew what needed to be done. It was pretty emotional, very scary, but we trusted in God's plan and it worked out for us."
 
The "clown of the family"
 
Quiet, stoic, low-key, and humble. Just a few ways Nate's Hawkeye teammates describe their junior quarterback. That's why it is shocking to know that, according to his parents, Nate was the "clown of the family."
 
"He was pretty energetic," said Jay. "He was the one who worried us the most about getting into trouble. I wouldn't say he was mischievous, but you always wanted to look out for what his next great idea was."
 
As the youngest, Nate found ways to get the attention of his older siblings, including barging his way into the conversation at his brother's kindergarten interview or coming up with new and exciting ideas like a backyard zipline that "didn't work out so well for his brother."
 
Then, Nate found sports.
 
"Once he found his niche in sports around 7-or-8 years old, he grew out of all that," Jay said.
 
"I love you, but I really love sports."
 
It didn't take long for Nate to become enamored with athletics. Whether it was football, basketball, baseball, or golf, he fully immersed himself in everything each sport had to offer.
 
At the age of eight, Nate really wanted a set of golf clubs, and his excitement beamed from his face when his father took him into the store to purchase a set.
 
"He made a comment to me that day," said Jay. "He said, 'Dad, I love you, but I really love sports.' It made me feel good, but it also put me on an even par.
 
"I told him, 'Nate, if you work really hard, you will have the chance to do something with your athletic ability."
 
That's exactly what he did. Nate gave his all to every sport, and he found success along the way.
 
He spent countless hours on the football field as the high school's team manager. He arranged blocking dummies, filled water bottles, and, as he grew, eventually stood in for walk-throughs, quickly learning the ins-and-outs of every position.
 
Then there was basketball. As his brother, Luke, played with kids his age and a year older, Nate joined in for the team's practices. Toward the end of the season the coaches let Nate play, too.
 
"He thought that was pretty cool, getting to travel to these little towns to play basketball on the weekends," said Donita. "That's the first memory I have of him playing sports."
 
There was baseball, too. In fact, all Nate wanted for Christmas one year was "dust and a baseball field." They settled on a tee.
 
"Nate was the youngest, but he wasn't the littlest by any means," Donita said. "He always played with older kids. He fit in because of his size."
 
This kid can really throw
 
Nate was about 10 or 11-years old before he recognized he had an athletic gift. In fact, it took a few banged up elbows for him to realize his own arm strength.
 
"I was playing baseball, and I beamed two kids in a row right in the elbow when I was pitching," said Nate. "I actually hurt them pretty good. I still feel bad about it. Now that I reflect back on it, I think that's the moment when I realized I had an ability to throw."
 
The realization came a bit earlier for Jay who saw him toss a baseball at seven or eight. Then he threw a football about 50 yards at a Punt, Pass, and Kick competition in Green Bay when he was 10.
 
"It was pretty impressive," Jay said.
 
For Donita, however, it only took a couple bruised palms to understand her child could really throw.
 
"He would have me catching for him," said Donita. "When he was in about sixth grade, I couldn't catch the ball anymore. It hurt my hand too much. I'd come in with my hand smoking red.
 
"I always wondered where that would go."
 
"Sky's the limit"
 
That athletic ability translated to success at the high school level. He was Menomonie High School's all-time leading scorer in basketball, a great baseball pitcher, a successful punter, and a tremendous quarterback. But it took more than talent to get him there.  
 
"It's his drive," said Joe LaBuda, Nate's high school football coach and close family friend. "A lot of kids have athletic skill, but they need other components that go along with it — athletic drive, academic excellence, etc. Nate has all of those."
 
His athletic prowess along with his ambition got attention from several Division I schools, including Iowa and Pittsburgh with then-head coach Paul Chryst. Iowa continually stood above the rest; however, and when head coach Kirk Ferentz extended a scholarship offer, Nate knew Iowa City was exactly where he wanted to be.
 
"I want to go into physical therapy, and I knew Iowa had a good track for it," Nate said. "The coaches are great people. They care about you more as an individual than an athlete. The football does come secondary."
 
After completing 5-of-9 passes for 62 yards as a freshman in 2016, Nate emerged as Iowa's starter after fall camp in 2017. He became the primary starter as a sophomore for just the fourth time under Kirk Ferentz. In his debut season, he threw for 2,437 yards and 26 touchdowns.
 
"He has always been a goal-oriented person with a tremendous work ethic," LaBuda said. "Sky's the limit for him. Some people say they are surprised with what he has done as fast as he has at the Big Ten level, but I'm not surprised at all."
 
Now, in his second year as Iowa's starter, Nate is focused on consistency.
 
"I'm looking to build off last year," said Nate. "We had a lot of success with certain things, but I am trying to build consistency as we move on. That will help us win some of those closer games that we lost last year."
 
Coming full circle
 
Perhaps it is his complex position on the field that leads him to want simplicity off of it. Nate enjoys spending time outdoors. He likes to fish, ice fish, shoot trap, boat with his friends, and play fetch with his dog, Onyx.
 
Those simplicities in life can be taken for granted. Nobody knows that better than Nate.
 
"I have gotten the opportunity to go to the NICU at the (Stead Family) Children's Hospital to talk with parents," Nate said. "It's cool to tell those parents that some of their kids might have difficulties now, but they will have a shot to live normal lives."
 
Game days in Kinnick Stadium got a little more meaningful in 2017 with the adaption of The Wave. Now, the parents Nate talks to in the NICU have an opportunity to see a man that was in the same situation as their own flourish at one of the highest levels.
 
Maybe their babies are like Nate. Maybe they too are just a little ahead of schedule.